Spring training is getting underway but it's not too late to start considering what kind of wood baseball bat or fungo to get the baseball player or coach in your family. Fortunately for you, the qualified staff at MDS Baseball Bats located in Akron, Ohio is available to help ensure you find the custom wood bat or fungo that is best suited for you. From choosing the correct length and weight to consideration of the best type of wood, they offer a wide selection of handcrafted wooden bats for players and fungo bats for coaches that are made to meet the MLB standards. And with the use of their online customization application, you can have the wooden bat or fungo made for you and shipped to you regardless if you are from Columbus, Ohio; Pittsburgh, Pennsylvania; Detroit, Michigan; Chicago, Illinois or anywhere else in the United States.
But how do you know which bat to choose?
One of the first things you should consider is the type of material you would like the bat to be made of: aluminum or wood.
Aluminum bats offer one benefit of more durability than wooden baseball bats. Aluminum bats are hollow, and the bat making contact with the ball compresses and can act much like a springboard. This effect, known as the trampoline effect, launched the baseball off of the bat at greater speeds of anywhere from 8 to 20 mph at the old BESR standard. All high school and collegiate baseball bats must now meet the BBCOR standard which reduces this trampoline effect to a performance equal to solid wood baseball bats. Many youth organizations are also switching to wood bats to increase player safety.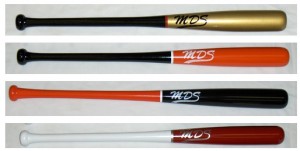 Meanwhile, handcrafted wooden bats are less expensive, sometimes as much as only a quarter of the price of their aluminum counterparts. They are considered to be a better hitting and training tool for baseball players because it forces them to drive the baseball and finish their swing more effectively. Additionally, you can own a custom wood bat, that can incorporate their team's colors and have the team's logo or even the player's name and number engraved on it. When you choose the type of wood you want, you should take into account the durability, flexibility and hardness of it.
Now, you might be asking why you should use MDS Baseball Bats, especially if you aren't from the Columbus area and you live in Pittsburgh, Chicago, Detroit or somewhere else out of state. Their staff has over 40 years of woodworking experience and all of their wooden bats are handcrafted to meet MLB standards. Each bat is made from the highest grade quality hand split wood available, each with its own distinct characteristics and they serve as the only local producer of the Northern Yellow Hard Birch baseball bats.
At MDS Baseball Bats located in Akron, Ohio, choosing a custom wood bat or fungo has never been easier. Whether you have questions about the correct wood baseball bat for your ball player or are in need of more information about the trampoline effect, they are available to service you. Regardless if you are from the Columbus, Ohio area or you reside out of state in Pittsburgh, Pennsylvania; Detroit, Michigan; or Chicago, Illinois, you can get started on creating a handcrafted wooden bat for the high school or college baseball player in your family by visiting them at http://mdsbaseballbats.com/ or calling them at 330.855.6305.