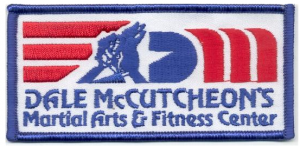 Parents are facing an annual dilemma. With kids out of school for summer break, Moms and Dads everywhere are searching for things for kids to do. Leaving them at home in Akron, Ohio or inactive at a babysitting summer camp near Green, Ohio or Hartville, Ohio won't do. But your work schedule is set, and time to find kids activities is running out. Martial arts camp at Dale McCutcheon's Martial Arts Academy in Uniontown, Ohio is the answer. Their schedule matches yours, and they will keep your kids active, focused, and fit!
Dale McCutcheon's Martial Arts Academy provides the optimal summertime solution. Their martial arts camp begins and ends with your workday. Dropping your kids off and picking them up becomes part of your daily commute to Akron around Green and home to Hartville. Best of all, your kids won't spend their time sitting around and watching the clock. This summer camp is filled with things for kids to do and their kids activities provide lasting benefits as well as lots of laughs!
Of course you can expect martial arts camp to emphasize karate. Your kids will be throwing stars, breaking boards, getting some weapons training, blow gun training, fighting with padded swords, and playing karate games. They will also get to apply their creativity to the kids activities on the agenda including water gun day, contests, and movies at the action-packed summer camp that concludes with a cookout. Dale McCutcheon's Martial Arts Academy in Uniontown offers a range of things for kids to do that will keep them engaged and excited as they enjoy their summer break.
You also have choices at Dale McCutcheon's Martial Arts Academy. They're offering their summer camp at two separate times. First, from June 24 to June 28 and again from July 22 to July 26. Each round costs less than $150, and you can choose to send your kids to either or both sessions. Workday compatibility and the boatload of things for kids to do is a consistent part of the program. So the amount of convenience and excitement you and your kids get this summer is up to you!
Spaces are limited in each martial arts camp. The staff at Dale McCutcheon's Martial Arts Academy wants the kids who attend to get the full summer camp experience so they're capping the groups at 30. If you want to ensure that your children don't miss out on the fun and challenging kids activities they're offering, register now! Whether your search for things for kids to do pertains to a preschooler in Akron, Ohio, a fourth grader from Green, Ohio or twins attending high school in Hartville, Ohio, Dale McCutcheon's Martial Arts Academy is it! Visit their website at www.dmcmartialarts.com or call them at 330.699.8600 to sign your kids up today!
Dale McCutcheon's Martial Arts Academy
www.dmcmartialarts.com
2825 Edison Street
Uniontown, Ohio 44685
330.699.8600