Have you been considering making your Alliance, Ohio or Canton, Ohio business more mobile? Whether you're delivering packages or pastries, you need a vehicle you can depend on to properly transport your cargo. However, many of the vehicles used for personal travel were not designed with enough cargo space to properly function as a commercial cargo van. With this in mind, pay a visit to Mercedes-Benz of Akron to find the reliable cargo van that's right for you. Here, you can select from an assortment of Sprinter Cargo Van models to find the one that best accommodates your Warren, Ohio or Youngstown, Ohio business' needs! Some of these models include:
2500 Standard Roof 144″ WB
2500 High Roof 144″ WB
3500 High Roof 170″ WB
3500 High Roof 170″ WB EXT
And More!
With so many different Mercedes-Benz work vans to choose from at this local dealership, finding the one that best accommodates your day-to-day work travels is made easy.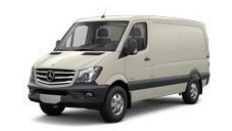 There are many commercial cargo vans available on the market today. However, there are several key features that help set those available at Mercedes-Benz of Akron apart from the competition. For example: the 2015 Sprinter Cargo Vans  are available with "Up fitted Friendly" features that allow business owners to incorporate shelving – "up fitted"– inside their van. This way, you can keep your cargo area arranged and organized for the delivery of packages and products. Other key features that help make these Sprinter Cargo Van models so desirable are their long list of safety features. These safety features include:
Load-Adaptive Electronic Stability Program (ESP)
Crosswind Assist
Highbeam Assist
Blind Spot Assist
Land Keeping Assist
And More!
Do you need a reliable cargo van that has 4×4 capabilities?  During the winter months in Youngstown and Canton, the winter weather can make travelling without 4×4 capabilities a struggle. However, you can't halt your business because of a little snow. To help keep your product deliveries on time and your vehicle on the road, consider choosing a Mercedes-Benz work van with 4×4 capabilities. Not only will this 4×4 capabilities feature help keep your business vehicle moving during the winter months, but it will also help keep you safer during your snowy drive through Alliance or Warren.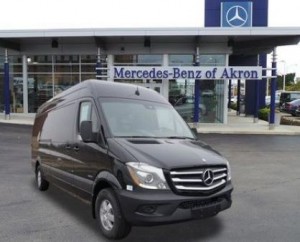 If you're currently leasing the work vehicle you're using for your Warren, Ohio or Alliance, Ohio business, consider investing in one of the Sprinter Cargo Van models currently available from Mercedes-Benz of Akron instead. Why? Mercedes-Benz is offering 24 and 36 month financing at 1.9% on their 2014 Sprinters until September 30th, 2015 to help make their competitively priced commercial cargo vans even more affordable! Because this offer is only available for a limited time, consider stopping by Mercedes-Benz of Akron to learn more about the reliable cargo vans they have available this season. Here, you can speak directly to one of their knowledgeable sales consultants and find out more about the Mercedes-Benz work vans they have available. This way, you can make a more educated decision on which of these Sprinter models would be right for your Youngstown, Ohio or Canton, Ohio business travels. For additional information on Mercedes-Benz of Akron and the vehicles they offer, visit www.mercedesbenzofakron.com. Otherwise, feel free to call 1.800.686.4355 to speak to one of their knowledgeable staff members today!
Mercedes-Benz of Akron
1361 E Market St.
Akron, Ohio 44305
www.mercedesbenzofakron.com
1.800.686.4355