With spring finally making its presence known around the Stark County, Ohio area, local residents are finding more and more reasons to be outside. And many of them have to do with shooting practice! Homeowners throughout Green, Ohio are getting rid of pesky critters that seek to tear up their backyards. Children around Canton, Ohio are joining airsoft leagues as a fun weekend activity. And sportsmen throughout the region are getting target practice in preparation for the next hunting season. Luckily, all of these individuals can get the airsoft and pellet gun accessories they need at Kames Sports. In addition to brand-name airsoft guns and pellet guns, this North Canton, Ohio establishment carries a wide assortment of products including airsoft gun batteries and chargers, as well as BB gun pellets and cleaning supplies.
Though Kames Sports is best known for their inventory of handguns and rifles, their selection of brand-name air guns and pellet guns is no less impressive. For the avid hunter, one of Kames' Gamo, Crosman, Umarex, or Benjamin pellet guns is an excellent choice for shooting practice. Plus, they come in handy if an unwelcome pest decides to turn your Green garden into an all-you-can-eat buffet. Along with the brand-name pellet guns themselves (including the famous Daisy Red Ryder!), Kames Sports also carries BB gun pellets and cleaning supplies for your convenience. And as an added bonus, the associates within this department can help you decide if 22 cal or 177 cal is right for your needs.
Along with pellet guns, Kames Sports has a large number of brand-name airsoft guns, including those from G&G, KWA, Umarex, and King Arms in .12 or .22. These are especially great for kids as airsoft leagues typically start up during the spring. Just like this North Canton store's inventory of pellet gun accessories, there are several different airsoft gun accessories available as well. Not only can you pick up safety glasses so your child has proper eye protection, but airsoft gun batteries and chargers as well. Just a quick trip from your Canton home to Kames Sports and you'll be able to get everything you need for a fun and safe activity.
As an added bonus, opting to visit Kames Sports for airsoft or pellet gun accessories means that you can expect great service and pricing as well. The staff members at this Stark County retailer are known for offering helpful advice to their customers. Whether you have questions about a specific product or just need some assistance with finding the right pellet or airsoft gun for your needs, one of Kames' knowledgeable associates will be there to help. Plus, Kames Sports provides affordable pricing on all of their products, including brand-name airsoft guns and pellet guns, so you're sure to find a product that fits your budget.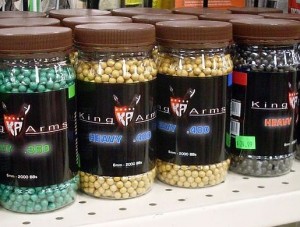 Whether you're ready to head out for shooting practice, need to eliminate some pests from your Green, Ohio yard, or plan on signing your child up for an airsoft league in Canton, Ohio, Kames Sports can provide the airsoft or pellet gun accessories you need this season. To learn more about the brand-name airsoft and pellet guns from this Stark County, Ohio retailer, visit their website at www.kamessports.com. If you have any questions about their inventory, don't hesitate to give Kames a call at 330.499.4558. If you'd like to see their selection of airsoft gun batteries and chargers or BB gun pellets and cleaning supplies in person, just take the short trip over to Kames Sports.
Kames Sports
8516 Cleveland Ave NW
North Canton, Ohio 44720
Ph: 330.499.4558
www.kamessports.com