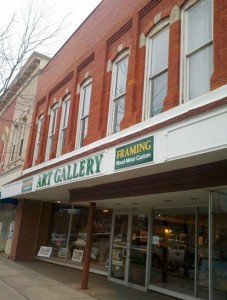 At the start of a new year, it's not uncommon for people to make the decision to change some things in their lives. Though most resolutions focus on health and wellness, many people commit to trying new things and taking up interesting hobbies. If you happen to belong to the latter group, you may want to start your journey at The Art Gallery in Willoughby, Ohio. An excellent resource for seasoned and burgeoning artists, The Art Gallery offers everything from unique art classes and high-quality art supplies, to great events such as their upcoming Gunter Schwegler art show. If your goal is to become a more creative, cultured individual in the year 2015, it's well worth a trip from your Mentor, Ohio; Eastlake, Ohio; or Cleveland, Ohio home to The Art Gallery. Not only can you take advantage of watercolor painting, jewelry making, sculpting, and silk painting classes, but you can also discuss different mediums with those who share your interest in art!
A lot of people who visit The Art Gallery do so because of this Willoughby establishment's selection of high-quality art supplies and art classes. However, it's worth noting that they frequently showcase the work of both local and visiting artists as well. These exhibitions provide a wonderful opportunity for art lovers as well as people who are just looking to try something new. The Gunter Schwegler art show that The Art Gallery will be hosting on January 1st is especially interesting as this Cleveland-based painter specializes in silk painting. Visitors who take the trip over to The Art Gallery during the Gunter Schwegler art show will be able to view some of the painter's one-of-a-kind creations up close, including scarves, lampshades, and other functional pieces.
Though The Art Gallery is excited to have such an extraordinary silk painter at their studio, they're also pleased to announce that new art classes will be available starting in January. This new schedule will feature master watercolor painting, sculpting with Leslie Edwards Humez, silk painting classes, and more! Plus, The Art Gallery will continue to offer jewelry making classes taught by a variety of talented instructors. As they plan on expanding their current bead shop, students will be able to pick up all of the art supplies they need right in the studio! Regardless of what medium you may favor, chances are The Art Gallery has a fun and interesting program for you to take advantage of this year.
What better way to start off 2015 than by taking the trip from your Mentor or Eastlake home to The Art Gallery for art shows, classes, shopping, and more?
To learn more about the new art classes coming up at The Art Gallery, make sure to "like" them on Facebook. They try to keep their page as up-to-date as possible in order to make things easier for local residents who are interested in enrolling in watercolor painting, jewelry making, sculpting, or silk painting classes. If you have any questions about their programs, don't hesitate to give The Art Gallery a call at 440.946.8001. However, if you'd like to peruse their inventory of high-quality art supplies in person, take the trip from your Mentor, Ohio; Eastlake, Ohio; or Cleveland, Ohio home to their shop. And if you have time, be sure to visit their establishment on the 1st for the Gunter Schwegler art show.
The Art Gallery
4134 Erie St
Willoughby, Ohio44094
Ph: 440.946.8001
www.artgallerywilloughby.com
Facebook