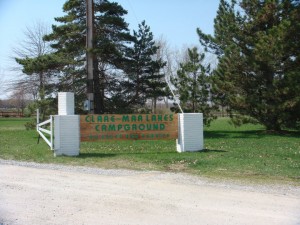 Finding spring and summer activities that the whole family will enjoy can be difficult. However, those who have had the opportunity to spend time at Clare-Mar Lakes Campground know that's exactly what this locally owned facility offers. Year after year, this Ohio campground opens the gates and invites individuals from all over Ohio, including but not limited to Cleveland, Ohio; Medina, Ohio; Strongsville, Ohio; and beyond to partake in a variety of fun and interesting events. And the same will hold true for 2015! After the official opening of this Lorain County, Ohio facility on May 1st, guests will be able to take advantage of holiday parties, live music, charity dinners, and even a murder mystery potluck! Whether you're looking to take a long vacation or you're just interested in a weekend rental, seasonal camping at Clare-Mar Lakes Campground will prove to be an experience your family will remember for years to come!
Just a week after this Ohio campground officially opens for the spring season, the staff will be holding a chaperoned lock-in for the little ones. A great way for the adults to celebrate Mother's Day, this event will include planned activities and games to go on throughout the evening. To ensure their safety, children won't be allowed to leave until morning unless a parent comes to sign them out. Due to the fact that guests will only have to pay a small fee for this overnight event, it's an excellent alternative to hiring a babysitter!
It's important to note that Mother's Day isn't the only holiday Clare-Mar Lakes Campground will be celebrating. In fact, Memorial Day happens to be a very popular time for this Ohio campground. From May 22nd-25th, visitors staying in tents, RVs, or weekend rental units will be able to participate in a wide assortment of spring activities. In addition to the annual yard sale held by Clare-Mar's staff and campers, this weekend will also include cornhole tournaments, beer pong, bingo, and live music! Since Lorain County's #1 party band, The Wannabes, will be providing the live music for this event, it's definitely one you won't want to miss!
The final weekend of May and the first weekend of June will also provide campers the opportunity to give back. From the 29th-31st, Clare-Mar Lakes Campground will be hosting their "Baby Weekend." This appropriately-named event features a number of different baby-themed activities and games, one of which is a spaghetti charity dinner for St. Jude Children's Research Hospital. Proceeds from the charity dinner will go to this reputable hospital and its quest to cure a wide range of adolescent illnesses. The good work continues the following weekend as this Ohio campground will be hosting the group that does the Lake Erie Loop—a 650+ ride aroundLake Erie to raise money for the Aluminum Cans for Burned Children Foundation (ACBC).
Also during the weekend of June 5th, camping guests from all over Cleveland, Medina, Strongsville, and beyond will be able to participate in a murder mystery! Starting with a wine & cheese night on Friday and ending with a potluck on Saturday, this fun murder mystery event will allow participants to follow "clues" all over the property in order to solve the crime.
Needless to say, Clare-Mar Lakes Campground has a lot of spring and summer activities coming up. And that's just for the first two months this Ohio campground is open! Though this Lorain County, Ohio facility has a wide variety of options for those interested in weekend rentals, choice sites do tend to fill up fast. So, if your family wants to enjoy the whole season or just take a short camping trip, it's in your best interest to make your reservation soon. Visit www.claremar.com to learn more about the events coming up at Clare-Mar Lakes Campground, including their live music, charity dinner, murder mystery, and more! Since these are just some of the activities planned for this year, it's safe to say this will be a very eventful and exciting season at Clare-Mar Lakes Campground. Well worth the short trip from your Northeast Ohio home!
Clare-Mar Lakes Campground
47571New LondonEastern Rd
Wellington,Ohio 44090
Ph: 440.647.3318 / 800.589.5789
www.claremar.com