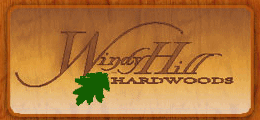 By Fiona Vernon
The balmy summer weather is slowly giving way to the chillier temperatures of fall, causing many individuals to spend more time indoors. They may have been procrastinating on a few projects due to the necessary financing, but spending more time indoors reminds them of how much they need new kitchen cupboards and countertops. There are many sources that give opinions on the best time of year for a homeowner to remodel their interior and exterior, but ultimately, the best time for any remodel is whenever the homeowner is ready. Individuals from Wooster, Ohio, and beyond can be confident in their planning of a kitchen remodel when they visit the interior wood products showroom at Windy Hill Hardwoods near Jackson Township, Ohio, to peruse the available products and decide what will best suit their aesthetic and practical requirements of a new kitchen. In the showroom and warehouse, homeowners can walk among the beautiful home remodeling materials, such as granite countertops, hardwood kitchen flooring, wooden trim, and Windy Hill Hardwoods' own line of JMark kitchen cabinetry. Anyone from Wadsworth, Ohio, to Fairlawn, Ohio, can take the short drive to Windy Hill Hardwoods and experience the knowledge and respect in every conversation with the staff.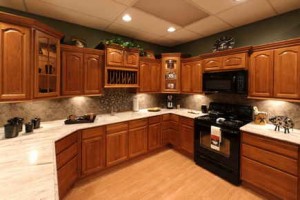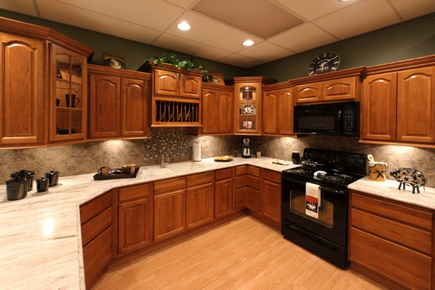 If individuals from Wadsworth to Wooster use the internet to perform a general search for kitchen cupboards, they may feel overwhelmed with all the different styles and features that are available. One of the key money-saving strategies to a remodel is to choose a cabinet line that offers many features as standard options with no charge, and homeowners can find this in the JMark kitchen cabinetry line made exclusively at Windy Hill Hardwoods. When trying to decide on what would best fit someone's tastes and lifestyle, visiting Windy Hill Hardwoods' interior wood products showroom can expose homeowners to the vast array of choices that they carry. They will quickly realize that this is the only stop they need to make for the majority of the products necessary in completing their kitchen remodel. Some of the standard features on their kitchen cupboards that are included at no extra cost to the consumer are:
Solid hardwood doors and face frames
½-inch plywood construction, including sides, tops, and bottoms
Match stained cabinet boxes inside and out
¾-inch plywood shelves
No particle board in any JMark cabinet
120-pound roller bearing side mount drawer glides on Heritage White, Tope, Hickory, and Legacy Oak
Soft close under mount drawer glides on Glazed Cherry, Shaker Cherry, Mocha, York Coffee, Bristol Chocolate, and York Cherry
Butt-style doors that eliminate the center stile between doors
Stainless steel baskets in all lazy susan cabinets
¾–inch Dovetail Drawer Boxes
Full extension hardware that allows drawers to open past the back edge for better access
European style concealed hinges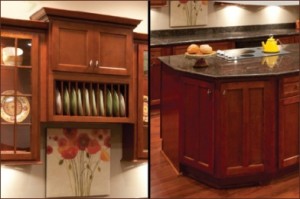 Not only has Windy Hill Hardwoods been offering quality home remodeling materials for over 27 years, but they also supply most necessary items to complete one's kitchen remodel, such as hardwood kitchen flooring, wooden trim, and granite countertops. Their reputation has helped their business grow exponentially, and anyone from Jackson Township to Fairlawn realize this is the only place they need to visit for their remodeling needs after consulting with the knowledgeable and friendly staff. The founder of Windy Hill Hardwoods began cutting and milling oak trim for local homeowners decades ago and everyone loved his dedication and respectful attitude. Customers can always be sure that he will do everything he can to ensure each person has a pleasant experience.
Individuals from Wooster, Ohio, to Fairlawn, Ohio, who are preparing for a kitchen remodel can alleviate much of the stress that is usually tied to a home modification by visiting the interior wood products showroom at Windy Hill Hardwoods near Jackson Township, Ohio. They will find a wide selection of hardwood kitchen flooring, granite countertops, wooden trim, and kitchen cupboards, making it a one-stop location for all the home remodeling materials that they may need to complete their project before the holidays roll around. With their exclusive line of JMark kitchen cabinetry, homeowners from Wadsworth, Ohio, and beyond can rely on many standard options that are included at no extra charge, yet offer every day convenience. Anyone can again enjoy cooking in their kitchen by taking a few weeks to remodel it with the comprehensive, affordable products found at Windy Hill Hardwoods.
Windy Hill Hardwoods
4500 Erie Ave.
Canal Fulton, Ohio 44644
330.837.9710
windyhillhardwoods.com