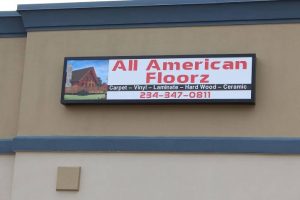 By Fiona Vernon
The temperatures have begun their descent as fall approaches. Vacations have been thoroughly enjoyed, kids are back in school, and families from New Philadelphia, Ohio, to Akron, Ohio, have returned to their standard routines. With schedules being predictable at this point, it is a great time to call the professionals at All American Floorz for a free flooring measure! Homeowners often take some time to mentally adjust to the idea of investing in carpet, tile, or hardwood flooring installation; however, this local flooring store offers pricing that is almost half the price offered at national home improvement stores. Not only do they offer fantastic every day price points, but they also frequently run great carpet and flooring specials, so it behooves anyone to call them. Homeowners from North Canton, Ohio, to Massillon, Ohio, searching for kid and pet-friendly waterproof carpet can count on the counsel and expertise provided by All American Floorz.
Homeowners from New Philadelphia to Akron can visit All American Floorz when they require guidance in the process of choosing the right flooring for their home. Maybe someone is interested in having the carpet in their living room replaced with hardwood flooring but would like to coordinate with their current décor, or perhaps an individual has remodeled their kitchen and needs a tile flooring to match the new granite counter— calling for a free flooring measure from this local flooring store can be the best first step they can take on their way to a beautiful new atmosphere in their home. They even offer cash and carry for those ambitious people who remodel themselves! Visiting their showroom is the best way to peruse the vast array of flooring they have available, from a hardwood flooring that creates a true rustic feel to a tile flooring that is marbled with grays and beige to match one's new granite kitchen counter. Trusting the expertise and decades of knowledge at All American Floorz is easy with a quick phone call.
Mike Christy made a living as a flooring subcontractor for 25 years and has worked with his crew for 17 of them. Mike and his wife, Faith, decided that they could give clients the same product he had been installing but with better pricing and service. They believe in such high-quality workmanship that putting their own name behind their work was the best solution. They opened the showroom at All American Floorz two years ago so that they would be able to offer the same quality products as the companies with whom he had experience but be able to provide better service and prices to homeowners from North Canton to Massillon. Not only do they offer prices that are almost half of the national home improvement stores, they also frequently run carpet and flooring specials that reduce prices even more. Anyone who has been contemplating replacing that old carpet from when they built their house 15 years ago can take advantage of this local flooring stores's  whole house special right now — 25oz plush carpet/720ft. installed with 7/16 6lb Pad only $1099. Many people feel like they will never have nice carpet when they have children frequently spilling things on it or pets having accidents, but by investigating waterproof kid and pet-friendly carpet, they won't have to worry about its deterioration any longer. All American Floorz has the variety from which to choose to match any décor and lifestyle, and there could not be a better time to call for a free flooring measure and carpet installation.
With fall routines settling into place, homeowners from Akron, Ohio, to Massillon, Ohio, contemplating new tile flooring or carpet installation will find it is a great time to call All American Floorz for their guidance in what flooring would best fit their budget and lifestyle demands. Whether someone in North Canton, Ohio, wants to create a specific atmosphere with hardwood flooring or another person in New Philadelphia, Ohio, has a lifestyle that puts harder burdens on their flooring and needs waterproof pet and kid-friendly carpet, this local flooring store offers the free flooring measures, lowest of everyday prices, impressive carpet specials. Anyone who demands excellence can trust the highest quality of service provided by All American Floorz.
All American Floorz
1664 N. Main St. #24
North Canton, Ohio 44720
234.347.0811
Facebook Page