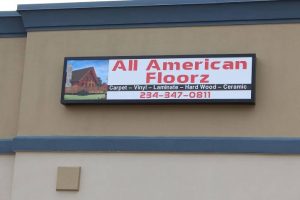 By Fiona Vernon
Fall has officially arrived, bringing relaxing weekends with bonfires and happy memories. Most individuals from Cuyahoga Falls, Ohio, to Alliance, Ohio, feel that as soon as the temperatures start to drop, time starts to fly by that much faster, bringing Thanksgiving and Christmas with it. It is the perfect time for homeowners to call All American Floorz for flooring specials on kid- and pet-friendly carpets with stain warranty or luxury vinyl plank and tile floors so that they can complete a smooth installation before the holidays. This local flooring store offers free flooring measures in addition to the best flooring prices in the area at an average of almost half the price of other home improvement stores. They have served individuals from Green, Ohio, to Massillon, Ohio, and beyond for over 25 years, with an installation crew that has been working together for 17 of them. The quality and service provided by All American Floorz stands above the competition, and anyone who calls them will become part of the history of many satisfied customers that keep returning for their flooring needs.
It takes a certain amount of planning and foresight before many homeowners from Massillon to Green find the finances and time necessary to commit to upgrades to their home. Whether a family in Cuyahoga Falls has been in their house for 20 years and feels it's time to look for pet-friendly carpet, or someone just moved into a new home in Alliance that would fare better by installing a kid-friendly carpet with stain warranty, All American Floorz carries a vast array of flooring that can satisfy any practical need, as well as décor. Not only do they offer their carpet installation and products at an average of almost half the price of home improvement stores, but they also frequently run flooring specials. There are two great deals presently running. One is on Shaw Carpet with a 10-year Stain and Soil Warranty at only $0.77 per square foot, which comes in an impressive eight colors from which to choose. This local flooring store is also offering a large selection of luxury vinyl planks and tile flooring, starting at only $1.25 per square foot. Anyone will be glad that they call for a free flooring measure to take advantage of the great pricing on a new floor before the holiday guests start to arrive.
When it comes to working for someone else, one must be proud of the products and services that they are offering to the end user. The founders of All American Floorz had been in the flooring industry for 25 years and had many experiences that taught them how to effectively satisfy customers. This local flooring store decided that they could be the kind of company that they would like to hire if they were remodeling their own home. They could not only offer the best flooring prices with their lack of overhead, but they also believed in the impressive quality and work ethics of their own installation team. Keeping the trusted members that they had been working with for over 17 years, they opened their storefront so that they could offer dependable counsel on superior products and go to sleep at night knowing they were making quality commitments to each and every client.
Homeowners from Alliance, Ohio, to Massillon, Ohio, who are looking forward to the holidays can choose an early Christmas present for themselves and finally commit to the upgraded flooring to which they have been looking forward for years. Anyone from Green, Ohio, and beyond may find that choosing a kid- or pet-friendly carpet with stain warranty would be the best option for their busy lifestyle and will be happy to discover that All American Floorz is currently running a special on Shaw Carpet. Someone else in Cuyahoga Falls, Ohio, may find that they are in love with the upscale look of some of the varieties of luxury vinyl plank floors and tile that are on display at this local flooring store, also offered a great price. Anyone can call for a free measure with carpet installation that can be enjoyed before the holidays. Past satisfied customers can attest to the fact that All American Floorz not only offers fantastic flooring specials with impressive service, but they also have the best carpet and flooring prices. They stand behind everything that they do with pride.
All American Floorz
1664 N. Main St. #24
North Canton, Ohio 44720
234.347.0811
Facebook Page