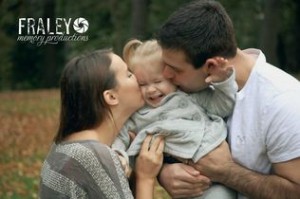 If you're like most proud parents, you undoubtedly love showing off pictures of your family to friends and coworkers. However, an Instagram page filled with images of cake-covered faces and petting zoo trips isn't quite the same as an actual family portrait. Getting a picture taken in which all of your loved ones are clean and well-dressed can be a feat in itself, but it's well worth it when you can send out beautiful holiday cards to everyone on your contact list. Fortunately, finding a professional family photographer capable of taming the most stubborn of toddlers isn't as difficult as you may think. Fraley Memory Productions has captured hundreds of images for families throughout the Ravenna, Ohio; Hartville, Ohio; and Uniontown, Ohio areas. By enlisting the help of the experts from this local portrait studio, you can finally get a cover shot worthy of your family photo album!
Whether your children are finally old enough to sit still for the camera, or you recently welcomed a furry, four-legged addition into your home, chances are you're eager to show off your growing family to those closest to you. That's where Fraley Memory Productions comes in. This professional family photographer can provide you with the perfect image to use in your holiday cards, top off your family photo album, or mount above your fireplace. Unlike other portrait studios in the area, Fraley Memory Productions doesn't take a one-size-fits-all approach when it comes to family portraits. Instead, they encourage their subjects to embrace the qualities that make them unique! For instance, families that frequently spend time together outdoors are able to pose in front of their favorite hiking spot or nearby lake. Of course, those wanting to go the more traditional route can choose from one of the many lovely backdrops that Fraley Memory Productions has available.
In addition to having the talent and equipment to create holiday card-worthy family portraits, Fraley Memory Productions also charges a reasonable fee for their sessions. If you have yet to put together a real family photo album, it's probably because of the expense that goes along with visiting a professional family photographer. Thankfully, that's not something you'll have to worry about when you take the trip from your Ravenna, Hartville, or Uniontown home to meet up with the team from Fraley Memory Productions. They have a number of packages available so you can choose the option that best fits your budget and needs!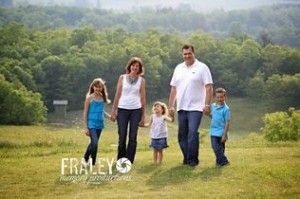 If you're planning on putting together a family photo album as a gift, or you'd simply like to send out your holiday cards early, enlisting the help of Fraley Memory Productions is a great first step. This local portrait studio is more than qualified to take your family portrait for you. If you'd like to learn more about this professional family photographer and the work they've done with other families throughout the Ravenna, Ohio; Hartville, Ohio; and Uniontown, Ohio areas, visit their website at www.fraleymemoryproductions.blogspot.com.
Fraley Memory Productions
2751 Old Home Road
Akron, Ohio 44312
Ph: 330.703.9228 / 330.608.5865
www.fraleymemoryproductions.com
Facebook Page