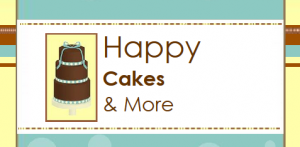 Now that the weather has begun to warm in the Solon, Ohio and Parma, Ohio areas, many individuals are planning their outdoor gatherings with family and friends. Whether you're just spending a couple hours with a few of your close friends or you're gathering with your family for the Easter holiday, a snack is almost always expected. This season, give your guests a treat they'll be sure to enjoy from Happy Cakes & More!
Here, you'll be able to find an assortment of great desserts for you and your friends to enjoy– including fresh spring cupcakes! These cupcakes are available in singles or by the dozen for additional savings. Best of all, you can select from a variety of delicious flavors to accommodate everyone's sweet tooth! Are you looking for a larger treat to share with your family this coming Easter? Decorated cookies and custom cupcakes from this quality bakery are perfect for those looking for an Easter dessert unlike any other. Don't forget, Happy Cakes & More is now offering fresh cheesecakes to those in the Cuyahoga Falls, Oho area and beyond this season!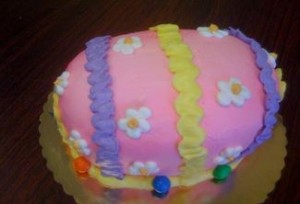 These fresh cheesecakes are perfect to share or to eat by yourself. With multiple flavors to choose from – blueberry, raspberry, strawberry—you'll be sure to find the cheesecake that best fits your personal taste for the low price of $30! Do you rarely eat sweets? If you only have a sweet snack every once in a while, you want to make sure you're snacking on something memorable. This spring, you can find an assortment of delicious cupcakes available at Happy Cakes & More! These fresh spring cupcakes come in a variety of different flavors so you can find the one that best suits you.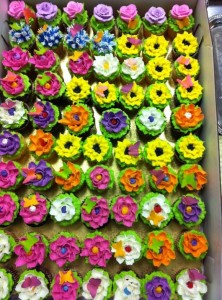 Although Happy Cakes & More has always offered delicious buttercream cupcakes, they now offer cream cheese cupcakes to their Parma, Solon, and Cuyahoga Falls customers as well. Are you looking for an Easter dessert to bring to your next family gathering? The gourmet cupcakes from Happy Cakes & More are an excellent option for those who don't have time to bake a fresh dessert but would like to bring one to their next family gathering. Right now, you can invest in a dozen of these flavorful cupcakes for $23 per dozen. With so many choices, you'll be sure to find a cupcake everyone can enjoy!
Happy Cakes & More may be best known for the fresh spring cupcakes they create, but they've been known to create a variety of other unique desserts everyone can enjoy! From custom wedding cakes to fresh cheesecakes, Happy Cakes & More is happy to provide the Cuyahoga Falls, Ohio area and beyond with the desserts they need for their celebration. The Easter holiday is no different. If you're interested in investing in an Easter dessert for your family gathering in the Solon, Ohio or Parma, Ohio area this season, contact the professional bakers of Happy Cakes & More! For more information, visit www.happycakes268.com or call 330.963.0082 today!
Happy Cakes & More
7995 Darrow Rd.
Twinsburg, OH 44087
www.happycakes268.com
330.963.0082
Find them on Facebook!