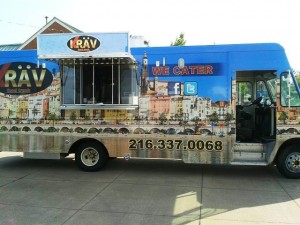 Today's choices for food on the go include way more than fast food. Gone are the days when all you could get quick was a soggy burger with a side of cardboard fries. Same goes for spending your entire lunch break or free afternoon stuck in a restaurant waiting to be served something decent. Food trucks have revolutionized short order meals and eliminated lengthy waits by bringing culinary innovation to you. In Northeast Ohio, food truck food features marinated meats, intricate sauces, and double-cured bacon when you pick Krav Foodtruck. With decadent meals ready in minutes, they've kicked old-fashioned street food like questionable hot dogs to the curb and introduced inspired ideas. Now, instead of wondering what was in that wiener, people everywhere want to know where is the food truck! The answer is always easy to find with Krav Foodtruck because it pulls off from Avon Lake, Ohio and parks in Vermillion, Ohio; Lorain, Ohio; and Cleveland, Ohio like clockwork.
From May through October, you can find Krav Foodtruck serving chicken, lamb, marinated flank steak or Korean BBQ pork in downtown Cleveland. They will bring their jaw-dropping food truck food to Walnut Wednesdays in the NineTwelve district all spring and summer long. Walnut Wednesdays are outdoor food fiestas where street food from food trucks reigns superior. And Krav Foodtruck from Avon Lake will dish out their delicious options on the corner of Walnut Avenue and 12th Street from 11:30 a.m. to 1:30 p.m. each week. So whether you want a better workday lunch or some flavor for your afternoon adventure, what to get from Krav Foodtruck will be a pressing question but where is the food truck will not.
Beginning in June, you can pinpoint Krav Foodtruck's location at the Vermillion farmer's market each Saturday. The farmer's market is open until October and on Saturdays, you can stock up on freshness from 8 a.m. until 7 p.m. With Krav Foodtruck in the mix, you can fill up on something fabulous while you're at it. Maybe some food truck food drizzled with coconut milk red curry yogurt sauce or street food with a hint of Tzatziki sauce will hit spot. Or perhaps a grilled cheddar burger with double-cured house bacon will help keep your husband quiet. There will be no reason to rush or wonder where is the food truck on Saturdays, and the crafty crew onboard Krav Foodtruck won't make you wait long either.
Lorain will be the spotlight location for Krav Foodtruck in July. The street food sensation will add some intrigue to the excitement of the Port Authority fireworks show on July 3. You could grab Toasted Hazelnut Caper Gremolata Aioli yourself, chicken gyros for your group, or fries with chipotle mayo for your kids. Quick and convenient food truck food is great for outdoor events like the fireworks show. Served hot and ready to eat, it allows you to grab a bite and pick a spot to sit, eat, and enjoy the show.
Food trucks are taking street food to new heights for a reason. Food truck food is healthier, fresher, and more creative than $1 hot dogs and typical fast food. Krav Foodtruck is known for coming up with cool ideas and serving them hot on the spot. They have been featured on WKYC Channel 3 News and given front-page status by their hometown newspaper, the Avon Lake Press. So if you haven't experienced the culinary innovations that come from Krav Foodtruck, you are likely one of the few people in Avon Lake, Ohio; Cleveland, Ohio; Vermillion, Ohio; or Lorain, Ohio that's been missing out. Catch Krav Foodtruck at one of their known locations this spring and summer. If you want something better, brighter, and bolder now, call them at 216.337.0068 and ask, "Where is the food truck?"
Krav Foodtruck
216.337.0068