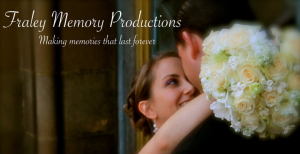 While the fall season may not have ended just yet, it's never too early to prepare for the holidays. From shopping for your loved ones' presents to planning your Christmas dinner menu, now is a great time to get a head start on the festivities. Even Fraley Memory Productions is helping residents from Akron, Ohio to Canton, Ohio with their seasonal photography specials! By scheduling a photography session with Fraley now, you can get the Christmas photos you need for your family Christmas cards. A favorite among Stark County, Ohio and Summit County, Ohio natives when it comes to holiday photography, Fraley Memory Productions will make sure that you leave with beautiful pictures you can be proud to send off to friends and relatives!
Families throughout the region are quick to enlist the help of Fraley Memory Productions around Christmas time, and it's not difficult to see why! This professional photography team has a gift for capturing precious moments between loved ones as well as creating terrific group shots that are a far cry from the stiff, bland photos you often see from other studios. Fraley Memory Productions allows each individual's personality to shine through, making for Christmas photos that are fun, vibrant and unique. And lucky for you, they'll be running their seasonal photography special during the months of November and December!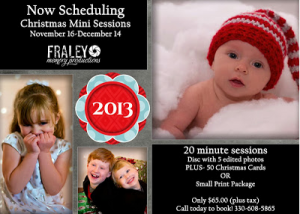 When you call Fraley Memory Productions to ask about scheduling a photography session for your family, you'll have the opportunity to sign up for one of their Christmas mini sessions. Available at an extremely affordable rate, this session lasts for 20 minutes—more than enough time to snap the perfect Christmas photo for this year's batch of greeting cards. In addition to a disc with 5 edited photos, this offer includes a choice between 50 family Christmas cards or a small print package. Consisting of 2 5X7s and 1 8X10, the print package is a great option if you're planning on creating your own greeting cards and just want a nice photo for your desk. Of course, if you'd prefer to have your family Christmas cards done by a professional, then choosing the first option is an excellent idea.
While other studios around the Stark County and Summit County areas may be offering seasonal photography specials as well, chances are they can't compete with the quality, convenience, or affordability of Fraley Memory Productions' holiday photography. Not only does this local team take gorgeous Christmas photos at reasonable prices, but they do so in a timely manner. Whether you have limited time before you need to head back to work in Canton or the kids have band practice in Akron, Fraley Memory Productions will make sure your photography session runs smoothly so you can get back to your daily tasks.
Space is limited, so if you're interested in booking your own photography session with Fraley Memory Productions, it's a good idea to do so now rather than later. Otherwise, you could miss out on getting a nice Christmas photo for your family Christmas card this year! If you'd like to learn a little more about holiday photography from Fraley Memory Productions, visit their website at www.fraleymemoryproductions.blogspot.com. Not only can you find pricing information, but you can also view photos from Stark County, Ohio and Summit County, Ohio residents who have enlisted Fraley's help in the past. As soon as you decide to take advantage of their seasonal photography special, give Fraley Memory Productions a call at 330.703.9228 or 330.608.5865 and take the trip from your Canton, Ohio or Akron, Ohio home to their studio on the day of your appointment.
Fraley Memory Productions
2751 Old Home Road
Akron, Ohio 44312
Ph: 330.703.9228 / 330.608.5865
www.fraleymemoryproductions.com
Facebook Page