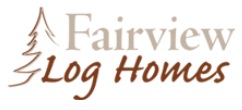 Over the years, rustic home exterior and interior designs have increased in popularity. In turn, log cabins have become an exceptionally popular option for many property owners looking to invest in a more primitively designed home. Although these customized log cabins may have a more rustic appearance, modern residential log cabins are often filled with a variety of contemporary features! Even seasonal log cabins used for summer getaways or winter retreats are made to have all the comforts of a more traditional residence. Would you like to invest in a log cabin for your Tuscarawas County, Ohio property? If you've ever considered having a customized log home built on your property in the Guernsey County, Ohio or Mahoning County, Ohio area, contact the professionals of Fairview Log Homes!
For years, Fairview Log Homes has been creating residential log cabins and seasonal log cabins for individuals across the region. Unlike some companies that build the home you want based on a pre-assembled package or plan, Fairview Log Homes works one-on-one with their clients to develop a unique home design that accommodates their specific needs and wants. After all, there may not be a packaged plan available that meets the exact design you want for your customized log home in the Mahoning County or Tuscarawas County area.  However, should you find and purchase a plan that you want to have built, Fairview Log Homes will be happy to help turn it into a reality!
Are you unsure about investing in a customized log cabin for you and your family in the Guernsey County area? Even though the initial cost of a log cabin may be more than a common stick-framed house, they tend to hold their value longer and provide a variety of additional benefits! For example: log homes have been known to be more energy efficient when it comes to heating and cooling your home. This is because wood has "thermal mass" that helps keep your cabin walls at a level temperature, reducing the use of your heating or cooling system. For those that suffer from indoor allergies, you'll be happy to know that log cabins do not hold humidity the same way that more traditional homes do. For this reason, there tends to be lesser mold and mildew development in your home. In turn this can provide better interior air quality for you and your family throughout the year.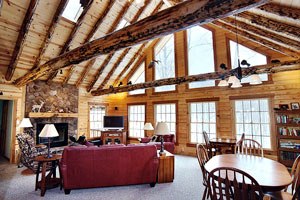 Did you know that residential log cabins and seasonal log cabins tend to be more environmentally friendly than the average stick-framed home as well? Materials used to construct customized log cabins tend to be more environmentally friendly. In fact, Fairview Log Homes uses "green construction" to construct the beautiful log home you want for your Tuscarawas County, Ohio or Mahoning County, Ohio residence. This is done by using dead timber –often lodgepole pine and northern white cedar– to construct the customized log home you desire. Best of all, Fairview Log Homes can often have these quality log homes built in as little as four to six months so you spend less time waiting to move into the home you've always wanted! If you're from the Guernsey County, Ohio area and are considering investing in the construction of a residential or seasonal cabin, feel free to call 330.359.5726 to speak to one of Fairview Log Homes' knowledgeable staff members. Otherwise, you can learn more about these professional home builders by visiting www.fairviewloghomes.net today!
If you'd like to receive $2,000 off the purchase of a custom log home, click HERE to take a short survey!
Fairview Log Homes
3375 County Road 160
Millersburg, OH 44654
www.fairviewloghomes.net
330.359.5726