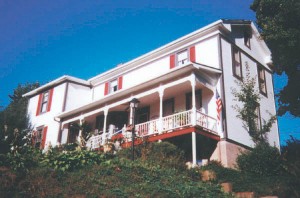 No matter how much you may enjoy living in the bustling metropolis of Columbus, Ohio; Cleveland, Ohio; or Pittsburgh, Pennsylvania, it's nice to get away every once in a while, leaving the bright lights and tall buildings in the rearview mirror. Everyone needs a brief respite from the stress of city life, but in order to get it, you need to look outside of your area. Fortunately for those not wanting to venture too far from home for a weekend of rest and relaxation, there's Apple Butter Inn in Coshocton, Ohio. This affordable bed & breakfast not only offers city dwellers the opportunity to get away from it all at a reasonable price, but its location in Roscoe Village provides visitors with a number of fun activities. Whether you'd like to take a historic tour of Roscoe, glide through the water on a canal boat ride, sample some delicious beverages at one of the local wineries, or simply pamper yourself with one of Apple Butter's spa treatments, there are a variety of options to help you recharge. Even Scruffy can enjoy the getaway as Apple Butter Inn provides pet-friendly lodging!
Overlooking the beautiful town of Roscoe Village, Apple Butter Inn in Coshocton gives guests ample opportunity to relax and take in the sights and sounds of simpler times. Built in the 1840s, the building itself is a charming, 6-bedroom structure filled with antiques. From the moment you step into Apple Butter Inn, you'll feel the stress and tension of everyday obligations leave your shoulders, allowing you to appreciate everything that this delightful yet affordable bed & breakfast has to offer.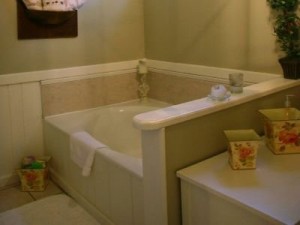 In addition to the wonderful in-house spa treatments available at Apple Butter Inn, this local bed & breakfast offers cozy quarters for each of their guests. With soft bedding, private bath, a breathtaking view and full-course breakfast every morning, Apple Butter Inn makes sure that guests obtain the R&R they so desperately need after a long week in the city of Columbus, Cleveland, or Pittsburgh. As staff members are available on-site, any issues or needs will be addressed in a timely manner by a friendly and helpful employee. And though you may be visiting Apple Butter Inn to get away from it all, the establishment still offers wi-fi for your convenience.
As you step out of your room and venture out into the Roscoe Village area, you'll be able to take part in a wide variety of activities that are available throughout this scenic setting. Along with historic walking tours and canal boat rides, opportunities for entertainment are offered nearby. Close to the Amish Country area, Apple Butter Inn is conveniently located near 5 local wineries that you can visit in order to indulge in a rich, full-bodied beverage. You can even pick up a bottle or two to take home so you can remember your trip! But if art, music, shopping, or dining is more appealing, there are still plenty of establishments worth seeing.
Restaurants, museums and small shops are in abundance around Roscoe Village, as well as some larger, more popular spots. As Apple Butter Inn is just a short distance from the Longaberger center, you can choose to spend your afternoon perusing their products or viewing their delightful home office building. Plus, Salt Fork State Park is also nearby, giving you the chance to take your four-legged friend on a walk through the park after leaving your pet-friendly lodging.
With everything in and around Apple Butter Inn, this hillside establishment provides the perfect getaway. And at just $80-$140 a night, it will prove to be an affordable bed & breakfast that you'll frequently return to after your first visit.
To learn more about this affordable bed & breakfast including pricing and policies, visit their website at www.applebutterinn.net. You can also give them a call at 740.622.1329 if you have any questions about check-ins, events, or their pet-friendly lodging. But if you're in desperate need of a break from your hectic life in Columbus, Ohio; Cleveland, Ohio; or Pittsburgh, Pennsylvania, make sure to book your stay soon! With spa treatments, canal boat rides, local wineries, historic tours of Roscoe Village and many other activities available, Apple Butter Inn can provide you with some much-needed downtime.
Apple Butter Inn
455 Hill St
Coshocton, Ohio
Ph: 740.622.1329
www.applebutterinn.net