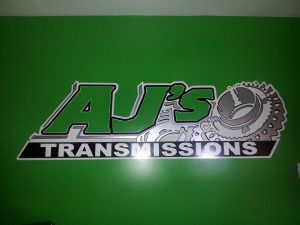 By Fiona Vernon
After the long winter that won't seem to leave, the extensive driving in inclement weather may have left its mark on vehicles from New Philadelphia, Ohio, to Fairlawn, Ohio. Whether a driver in Dover, Ohio, has noticed that their steering wheel is vibrating or an individual in Akron, Ohio, has noticed a popping or clicking when turning the steering wheel, AJ's Transmissions offers affordable transmission repair and rebuilds. Not only does this local transmission shop have the lowest prices in the area, but they also have partnered with a couple of businesses to help those anyone with an illuminated check transmission light who need car repair financing to get back on the road quickly. They can help determine if the car steering issues that a vehicle is exhibiting are from drive shaft, CV joint, and axle problems with their free diagnostics. People who have trusted AJ's Transmissions for the past 25 years, find themselves returning over and over for their trustworthy services!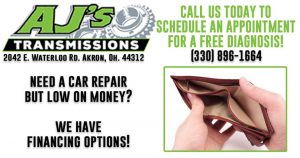 When drivers spin their wheels for an extended amount of time in the snow and ice, it can cause damage to various components of a vehicle, especially the transmission. The job of a CV joint is to transfer the torque from the transmission to the drive shaft and axle at a constant speed, while accommodating the up and down motion of the suspension. A CV joint is packed with a particular grease and sealed with a rubber or plastic boot, requiring no maintenance. It isn't uncommon to see the original CV joint on a vehicle with hundreds of thousands of miles; however, the most common CV joint problem is when the protective boot becomes damaged. Dirt and grease can enter the area and let moisture out, causing it to wear faster and fail due to corrosion and lack of lubrication. Anyone from Fairlawn to Dover who notices that they are having car steering issues can call AJ's Transmissions in Akron for a free diagnosis.
The most common symptom that with which customers of this local transmission shop present their vehicle when there is a CV joint problem is a popping or clicking when turning the steering wheel or that the steering wheel is vibrating. Occasionally AJ's Transmissions will find that a CV joint boot simply needs replaced; however, if the joint itself needs replaced, it doesn't come separate from the drive shaft and the entire component requires replacement. Anyone in New Philadelphia and beyond can rely on AJ's Transmissions for affordable transmission repair and car repair financing when they bring their vehicle in with drive shaft, axle, and CV joint problems. Whether someone has been driving far too long with a problem due to their financial fear of a transmission rebuild, or just noticed that their check transmission light is illuminated on their dash and wants to be proactive, this local, family-owned transmission shop offers over 25 years of experience on foreign and domestic transmissions for all sizes, makes, and models of vehicles!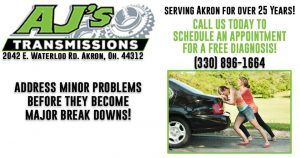 Every driver from Akron, Ohio, to New Philadelphia, Ohio, dread to hear someone tell them that they are having transmission problems, whether they notice a popping or clicking when they are turning the steering wheel, the steering wheel is vibrating, or there is fluid on the ground where they last parked. AJ's Transmissions not only provides affordable transmission repair to those with CV joint, axle, and drive shaft problems, but also provides free diagnosis and car repair financing on top of their already low prices. This local transmission shop can fix car steering issues, or anything related to an illuminated check transmission light, and have been trusted by generations of drivers from Dover, Ohio, to Fairlawn, Ohio. People who have relied on AJ's in the past can attest to the fact that they offer reliable and affordable transmission rebuilds and repairs with superior service.
 
AJ's Transmissions
2042 East Waterloo Rd
Akron, Ohio 44312
330.896.1664
ajstransmissions.com/
Facebook Page