Finding a suitable youth activity for your little ones during the fall and winter months can be tough. Being restricted to indoor play can make some kids stir crazy, and one can only play so many board games before they become tiresome. What you need is a fun, educational and unique project that will teach your children an enjoyable craft. Something like cooking classes for kids! As culinary arts are a great way for children to develop their math and reading skills, as well as become familiar with the kitchen, enrolling your little ones in cooking school may just be the perfect solution to their cold weather blues. Fortunately for those residing around the Brunswick, Ohio and North Royalton, Ohio areas, Young Chefs Academy of Strongsville, Ohio has a variety of courses that make it a terrific learning opportunity and birthday party venue!
Recommended as a birthday party venue by Parents® magazine in 2010, Young Chefs Academy offers children of all ages the chance to receive expert instruction on how to prepare a wide array of dishes. As the nation's only cooking school dedicated to kids, Young Chefs Academy allows little ones to get hands-on experience in a safe environment. Taught by experienced instructors, these cooking classes for kids vary by age, allowing children as young as 3 years old to learn about the tools, equipment and ingredients needed to craft tasty dishes!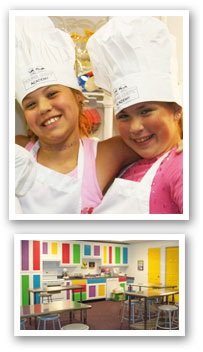 With Kindercooks (parent-child programs for 3-5 year olds), Junior Chefs (6-10 year olds) and Senior Chefs (11 years+), Young Chefs Academy has a program for every child who has an interest in culinary arts. Designed to show children that cooking can be creative and full of discovery, the cooking classes for kids at Young Chefs Academy are just as educational as they are fun! This youth activity gives little ones a way to practice their math, reading, health, science and social skills in a laidback atmosphere outside of school. Featuring such foods as Bacon Cheeseburger Bites, Magic Muffin Pot Pie, Caramel Cloaked Apples, Monster Mash Potatoes, Apple Cider Chicken and Chilling Chili, the upcoming classes at Young Chefs Academy in Strongsville demonstrate that this is one cooking school that encourages children's imaginations!
In addition to their affordable cooking classes for kids, Young Chefs Academy is also an excellent birthday party venue. Whether your little ones have a slight interest in culinary arts or they simply want a party that's different from anyone else's, hosting your gathering at Young Chefs Academy will be an event that they won't soon forget. And since parties can be customized to fit your needs, you can let your children invite as many or as few guests as they want. With exciting packages like Fiesta Fabulosa, The Afternoon Tea, Make Your Own Pizza Party, Cake Decorating Extravaganza and more, Young Chefs Academy can offer a birthday get-together that is more entertaining than anything your local Brunswick or North Royalton youth activity center can provide.
Whether your little ones are tired of being cooped up in your Brunswick, Ohio or North Royalton, Ohio home, or there's a birthday coming up, you'll definitely want to look into cooking classes for kids at Young Chefs Academy. To learn more about this nearby cooking school and their culinary arts programs, visit their website at www.youngchefsacademy.com. If you have any questions about enrolling your child in such a youth activity or using their facility as a birthday party venue, give Young Chefs Academy a call at 440.572.2855.
Young Chefs Academy
14759 Pearl Rd
Strongsville, Ohio
Ph: 440.572.2855
www.youngchefsacademy.com