As soon as you and your significant other decide to spend the rest of your lives together, you want to share the good news with those closest to you. And one of the best ways to do that is to enlist the help of an experienced engagement photographer! By opting to take a series of engagement pictures with your betrothed, you can tell all of your friends and family members about your upcoming nuptials in a fun and creative way. Luckily for you, Fraley Memory Productions has provided such services to countless couples throughout the New Franklin, Ohio and Norton, Ohio areas. Scheduling an engagement photo session with this photography team near Bath, Ohio will allow you to obtain the images you need for your save-the-date cards, as well as an engagement announcement in your local newspaper.
If you and your future spouse are thinking about having some engagement pictures taken, you want to be sure you choose the right photography team for the job. For starters, you need to look for a professional that's known for their talent and creativity. That way you'll feel confident that your photos will be as unique as you and your significant other! Fraley Memory Productions definitely fits the bill as they've captured thousands of images for local couples. Whether you and your loved one lean more towards the traditional side of things, or tend to think outside of the box, this engagement photographer will work with you one-on-one to ensure that you'll be pleased with the end result.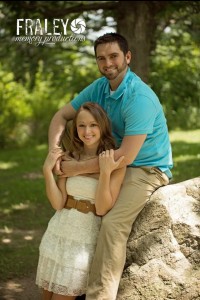 For most couples just starting out, price is a major concern. Though you and your fiancé/fiancée undoubtedly want to invest in engagement pictures to send out to loved ones throughout New Franklin, Norton, and beyond, you also need to stick to a budget. After all, there's the wedding and honeymoon to think about! Fortunately, Fraley Memory Productions charges a reasonable fee for engagement photo sessions. A two-hour photo shoot with this local business near Bath will prove to be much more affordable than what you'd pay at another studio. This is largely due to the fact that Fraley Memory Productions does all of their work in-house, which eliminates a lot of the overhead that other studios have. Included in this package is a customized ordering site, as well as a DVD with printing rights. That way you can select the image you want for your engagement announcement. As an added bonus, this engagement photographer offers 25 complimentary save-the-date cards!
Needless to say, Fraley Memory Productions is an excellent choice for couples wanting high-quality engagement pictures without having to spend an arm and a leg.
If you'd like to look at some of the engagement pictures they've done for other couples throughout the Norton, Ohio and New Franklin, Ohio areas, visit Fraley's website at www.fraleymemoryproductions.blogspot.com. There you can also find pricing for their engagement photo sessions for your convenience. If you have any questions for this engagement photographer near Bath, Ohio, feel free to give them a call at 330.608.5865 or 330.703.9228. One of their team members would be happy to talk to you more about getting the photos you need for your engagement announcement and/or save-the-date cards.
Fraley Memory Productions
2751 Old Home Road
Akron, Ohio 44312
Ph: 330.703.9228 / 330.608.5865
www.fraleymemoryproductions.com
Facebook Page