For those of you without an outdoor spa in your Larkspur, Kentfield, or Tiburon backyard, you probably envy the peace and tranquility your neighbors get to experience each time they dip their toes into their warm, massaging spa. Having a spa outside of your San Francisco area home can not only help you relax and unwind after a long day at the office, but it can completely transform your lawn into an outdoor oasis that provides the ideal setting for friendly gatherings and family fun. So, what's holding you back from purchasing your very own? The price? The energy costs? The fear of it being unsafe for your little ones? If any of these reasons apply, then you may want to take a few moments to learn about the Dimension One Spa line available from Terra Patio & Garden in Mill Valley. These safe, affordable, energy-efficient hot tubs are a tremendous upgrade from the spas you're probably familiar with.
As the most common concern surrounding outdoor spas is safety, you'll be pleased to learn that Dimension One Spas can eliminate many, if not all, of the worries you have about putting a hot tub in your Tiburon, Larkspur, or Kentfield backyard. For starters, these hot tubs use a unique water management system that allows for 90% less chemicals than traditional spas. Since children's skin can be sensitive to harsh chemicals, many appreciate the fact that Dimension One avoids the overuse of such products. Plus, these spas kill bacteria naturally, giving you peace of mind from knowing that your little ones aren't being exposed to an excess of bacteria as they wade around in your outdoor spa. And as sturdy covers are used to enclose the open tub, you can feel confident that your children won't fall in accidentally.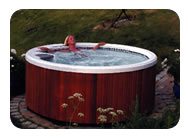 Along with being a safe option for your San Francisco area yard, the massaging spas from Terra Patio & Garden in Mill Valley are actually some of the most energy-efficient hot tubs on the market. In fact, after meeting the challenge set by the California Energy Commission, Dimension One Spas was asked to help create the statewide energy regulation policy for their industry! While other hot tubs cost hundreds of dollars to operate each month, these energy-efficient hot tubs average $20-30 a month, making them an extremely affordable hot tub option.
These safe, affordable, and energy-efficient hot tubs are a terrific option for those looking to purchase their first outdoor spa. Not only will Dimension One Spas erase any doubts you may have had about putting a spa in your Tiburon, Larkspur, or Kentfield backyard, but you'll be able to create a beautiful and relaxing environment right outside of your home. To learn more about these massaging spas and all of the benefits that come with them, visit www.terrapatio.com. You can also speak to an associate by calling 415.331.1603 or by visiting Terra Patio's showroom in Mill Valley, conveniently located just a short distance from San Francisco.
Terra Patio & Garden
258 Redwood Hwy
Mill Valley, California
Ph: 415.331.1603
www.terrapatio.com