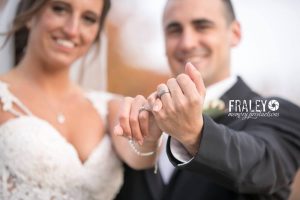 By Fiona Vernon
With the increased sunshine and residents in and around Cuyahoga Falls, Ohio, once again waking up to the sounds of birds chirping every morning, spring has commenced and brought with it the arrival of wedding season. Those who are betrothed and planning a wedding from Portage Lakes, to Bath, Ohio, may prefer to get married in the late spring or early fall with the temperatures before more comfortable; however, some love the heat and sun that the summer months promise. Regardless of a bride's preference, Fraley Memory Productions offers everything necessary to preserve the memories of matrimonial bliss that have taken months to plan and execute with affordable wedding photography packages that include engagement pictures, save-the-date cards, photo booth rentals, and wedding videography. Anyone in Hartville, Ohio, and beyond can rely on this local photography studio for indoor and outdoor photos for lasting memories of a perfect day!
Planning a wedding is in the dreams of many little girls as they grow up. It's most likely the most elegant event for which people from Hartville to Portage Lakes will prepare throughout their lives. Several essential steps are required as soon as a date is chosen to ensure that the preferred date is available, especially if the betrothed has dreams of a certain atmosphere. The first services to call and reserve are the hall and caterer, the valet parking company, and a local wedding photography studio with videography. Fraley Memory Productions offers a wide selection of wedding photography packages that will fit a variety of budgets. They run their business with the idea that preserving memories should be attainable, not a luxury and offer packages that reflect that ideal.
Fraley Memory Productions provides every service necessary to make any event's memories live on forever. Those couples from Bath to Cuyahoga Falls who are striving to stay within an agreed upon budget while balancing planning the most exquisite wedding possible can rely on this local photography studio's options in affordable engagement pictures and save-the-date cards. Their engagement photo session includes up to two and a half hours of indoor and outdoor photos at the client's location of choice; additionally, they have favorite locations for anyone needing guidance toward the perfect backgrounds. They also include 25 save-the-date cards and 30 to 40 fully edited photos. This local photography studio then offers a range of wedding photography packages that include the entire day with pre- and post-wedding coverage, ceremony and reception photos and videos, as well as albums and DVDs. Fraley Memory Productions also offers the latest in fun with their photo booth rentals, which offers instant photo texts or emails with an online gallery and custom photo strip to fit the theme of the wedding!
Weddings from Bath, Ohio, to Cuyahoga Falls, Ohio, are fun for all the friends and family involved. Couples take months to years to plan the perfect wedding that will not only impress, but entertain, and Fraley Memory Productions provides everything necessary to help in the creation of anyone's dream wedding. Whether a groom in Portage Lakes, Ohio, requires a photo booth rental at his wedding or a bride in Hartville, Ohio, wants wedding photography packages that include videography, this local photography studio has a vast array of selections that will satisfy any need. They are the preferred photographer of many brides with their comprehensive services that include indoor and outdoor photos, affordable engagement pictures, and save-the-date photos. Anyone who has called Fraley Memory Productions when planning a wedding can attest to the passion and creativity that they lend to everything that they do!
Fraley Memory Productions
2751 Old Home Road
Akron, Ohio 44312
Ph: 330.703.9228 / 330.608.5865
www.fraleymemoryproductions.com
Facebook Page