The 2012 Ohio State University football season may be over, but that doesn't mean buckeye fans from all over Ohio aren't still sporting their Ohio State gear every chance they get. And who could honestly blame them? With a perfect season under their belts, who wouldn't want to celebrate and wear their Buckeye gear proudly? At Conrad's College Gifts, in Columbus, Ohio, the celebration continues on with their new OSU apparel, accessories and memorabilia commiserating the perfect season. From OSU Gold Pants shirts to coins and prints, they carry everything Buckeye-related to help you show off some of the Buckeye pride everywhere from Akron, Ohio to Toledo, Ohio!
The shining moment for the Buckeyes came as they defeated their rivals, Michigan Wolverines in Ohio Stadium in Columbus. With a score of 26-21, the Buckeyes ended their perfect season on a high note and showed the NCAA that they could keep them out of the bowl season, but they couldn't break that Buckeye spirit! And luckily for you, Conrad's College Gifts is offering exclusive OSU apparel and memorabilia for Buckey fans all over Ohio!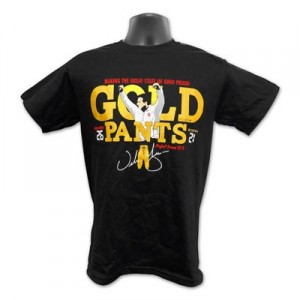 In honor of claiming the legendary gold pants pendants for their win over the Wolverines, Conrad's College Gifts is offering exclusive OSU Gold Pants t-shirts. The black Gold Pants t-shirt that has a stylized picture and signature of Coach Urban Meyer imposed on it with the words "GOLD PANTS" in gold lettering and "Making the Great State of Ohio Proud" in Buckeye scarlet lettering. Meanwhile the gray Perfect Season 2012 Gold Pant t-shirt features the scores of all twelve games of the 2012 Ohio State football perfect season. The front displays "B10 Leaders Division Champions" and "Ohio State Football" underneath. It features the OSU Athletic O logo on the front and the official Gold Pants logo at the bottom of the back. Either piece of Ohio State gear you can proudly wear around Toledo!
If you are looking for something more than Buckeye gear to commemorate the perfect season, then Conrad's has just the selection of memorabilia that you can display proudly in your Akron home or at your desk at work. With your brand new 2012 Perfect Season 15 ounce mug, your co-workers can rehash the big victory against Michigan. And if you are on the market for some collectible items you can look into their 2012 Silver Coil 12-0 Perfect Season and 2012 Limited Edition 12-0 Framed Perfect Season Print. Both of which would look perfect on the mantle above the fireplace in your home!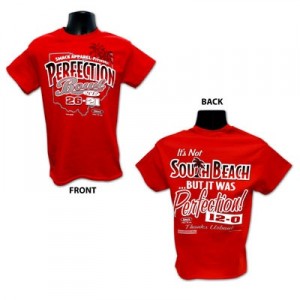 Regardless if you are a hardcore Buckeyes fan or just married to one, Conrad's College Gifts in Columbus, Ohio should serve as your number one stop for Ohio State gear. From OSU Gold Pants t-shirts, Perfection Bowl t-shirts and other OSU apparel to coffee mugs, coins and prints, they serve as Ohio's leading provider of exclusive Ohio State apparel and memorabilia. It doesn't matter if you live in Toledo, Ohio, Akron, Ohio or across the country, they can ship you all the Buckeye gear that you want. So take a moment to visit their site at http://www.conrads.com/ and start showing off that Buckeye pride today!
Conrad's College Gifts
316 West Lane Ave
Columbus, Ohio 46201