By Gemma Chriss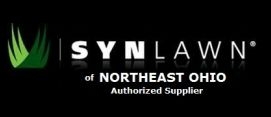 Though welcoming a pet into one's home is often a wonderful experience, it can also get quite messy. Residents throughout the Canton, Ohio; Cleveland, Ohio; and Akron, Ohio areas can attest to the fact that four-legged family members frequently track dirt and debris inside when they return from doing their business. With winter right around the corner, many individuals may be looking for a pet-friendly surface that will allow their furry friends to enjoy the outdoors without bringing it back with them. One option that continues to grow in popularity is synthetic grass. Artificial grass products, such as those from SYNLawn of Northeast Ohio, give homeowners the opportunity to put a pet-friendly yard in place that will significantly reduce the number of muddy paw prints they have to clean up. Those interested in replacing their natural grass with artificial turf will discover that SYNLawn of Northeast Ohio's products can not only help to keep one's home in good condition, but address many other problems as well.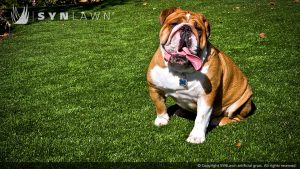 Since the artificial grass products from SYNLawn of Northeast Ohio are made from manufactured fibers, there's no risk of pets dragging in dirt or debris from outside. Even during the winter months when the constant freeze-and-thaw makes for plenty of dirty slush, pet owners don't have to worry about cleaning up muddy tracks left throughout the house. Plus, having synthetic grass in place makes it much easier to give one's dog a bath outside as there's less chance of the pup getting dirty again immediately after.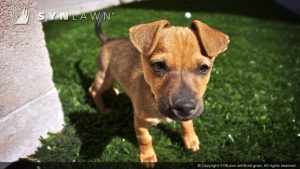 Another advantage of artificial turf that often goes overlooked is that it creates a pet-friendly surface free of pests. Pet owners throughout Canton, Akron, Cleveland, and beyond know firsthand the dangers certain insects pose to their furry family members. Since synthetic grass isn't composed of the organic materials that fleas and ticks are found in, dogs and cats are less likely to be bitten by troublesome critters. Having a pet-friendly yard in place can give owners peace of mind while their four-legged friends enjoy their time outside.
Those who considered artificial grass products in the past but chose not to move forward with installation were most likely concerned about the risk of odor in their yards. After all, the last thing a homeowner wants is to walk outside and be greeted by the overwhelming smell of pet waste. Thankfully, the artificial turf from SYNLawn of Northeast Ohio addresses this issue. Their line of pet-friendly surfaces contains organic zeolite crystals that can reduce 80% of the odors caused by such waste. Not only do SYNLawn's products keep the backyard smelling fresh, but they're safe and non-toxic to animals as well.
Residents throughout the Canton, Ohio; Cleveland, Ohio; and Akron, Ohio areas who are in the market for a pet-friendly surface can learn more about this line of artificial grass products by visiting SYNLawn of Northeast Ohio's website at www.synlawnneohio.com. Additional information about synthetic grass and how it can be used to create a pet-friendly yard is available online for their customers' convenience. Those with questions about pricing and installation time for artificial turf can contact SYNLawn of Northeast Ohio directly by calling 330.492.8733.
SYNLawn of Northeast Ohio
4855 Hills & Dales Rd NW
Canton, Ohio 44708
330.639.1564
www.synlawnneohio.com