By Gemma Chriss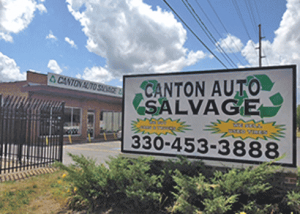 Many people choose to perform vehicle repairs on their own rather than visiting a garage. Opting to go this route allows individuals to eliminate the costs associated with labor. However, those who are trying to get their automobile back in tip-top shape still have to purchase the necessary parts. Since most retailers charge a significant amount of money for quality brakes, exhausts, fuel pumps, and more, a popular solution is to visit the local junk yard and obtain used auto parts instead. At establishments like Canton Auto Salvage, recycled parts in good condition are often available, including affordable engines and transmissions. However, unlike similar businesses, Canton Auto Salvage offers a warranty with each part they sell, giving individuals throughout Perry Township, Ohio; East Sparta, Ohio; Navarre, Ohio; and beyond peace of mind when they purchase a piece for their vehicle.
Since Canton Auto Salvage has spent the last few decades providing local residents with a wide range of used auto parts and exceptional customer service, it should come as no surprise to learn that this nearby junk yard is frequently visited by those in the market for recycled parts. However, while customers appreciate the fact that they can find virtually any piece of equipment they need at a reasonable price, what they value more is the business' commitment to selling quality exhausts, brakes, fuel pumps, bumpers, mirrors, blower valves, and more. All of the recycled parts available at Canton Auto Salvage are inspected by their team before being put out for sale. This ensures that customers looking for a particular product will end up purchasing a used auto part that will last much longer than those found at traditional junk yards. They even come with a 30-day warranty, so customers can feel confident that the piece will function properly.
Residents throughout the Navarre, East Sparta, and Perry Township areas should also note that larger parts come with an extended warranty. Those in the market for an affordable engine or transmission can obtain the used auto part they need at Canton Auto Salvage, complete with a 90-day warranty. Since these components are often the most expensive to replace, Canton Auto Salvage goes above and beyond to make sure that customers are satisfied with the performance of the engine or transmission they've purchased.
Those wanting to repair their own vehicle with used auto parts are encouraged to visit this local junk yard in person to find out what recycled parts are currently in stock. The staff members at Canton Auto Salvage are happy to assist customers in finding the quality exhausts, brakes, fuel pumps, or other products they need. Individuals throughout East Sparta, Ohio; Navarre, Ohio; Perry Township, Ohio; and beyond who require a larger component, such as an affordable engine or transmission, can also contact Canton Auto Salvage beforehand to ask about warranty coverage.
Canton Auto Salvage
1936 Baldwin Ave NE
Canton, Ohio 44705
Ph: 330.453.3888