The road to stroke recovery is a rough one, complete with frustrating twists and turns. Not only is this a difficult time for the patient, but everyone around them. However, despite how lonely you may feel watching your parent or grandparent struggle to recuperate after such an attack, you're not alone. Many families throughout the Bath, Ohio, area experienced the same helplessness as your own before turning to Lorantffy Care Center for assistance. Located just minutes from Copley, Ohio, and Fairlawn, Ohio, this nearby rehabilitation facility offers both in and out-patient rehab services for elderly individuals attempting to recover after a stroke, fall, or other serious issue. With their staff of physical, occupational and speech therapists, Lorantffy Care Center allows families to receive the medical care and emotional support they need during such a trying time.
By enlisting the help of Lorantffy Care Center, you can be sure that your loved one will have everything they need while on the road to stroke recovery. As this type of attack often affects speech and motor function, it's important that the patient works with a trained professional who specializes in such areas. Fortunately, Lorantffy Care Center employs a staff of highly-qualified physical, occupational and speech therapists that have assisted countless other patients with the same condition. Applying the latest methods and their own expertise, the therapists at Lorantffy Care Center develop a rehabilitation regimen for each of their patients to help them recover after their stroke, fall, or other injury/ailment. From one-on-one exercises to group activities, each treatment plan is based on the patient's physical and mental limitations. Plus, all services and techniques are discussed and monitored by the patient's physician.
As a way to help patients and their families, this local rehabilitation facility near Bath offers both in and out-patient rehab services. Whether your loved one will be staying at your own Copley or Fairlawn home for the time being, or you're unable to provide constant supervision, Lorantffy Care Center has a rehab option that will fit your needs. Offering short-term and long-term stays depending on the case, Lorantffy Care Center ensures that all of their residents are comfortable in their new surroundings.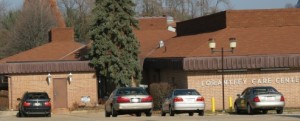 Being that stroke recovery is extremely difficult to handle on your own, you'll appreciate how the staff members at Lorantffy Care Center go out of their way to help. Regardless of whether you take advantage of in or out-patient rehab services, you can feel confident that your parent or grandparent will receive the medical care they need to regain speech and motor function. To learn more about this local rehabilitation facility near Bath, Ohio, visit their website at www.lorantffy.com. If you have any questions about their program or the physical, occupational and speech therapists they employ, don't hesitate to give them a call at 330.666.2631. You can also take the trip from your Copley, Ohio, or Bath, Ohio, home if you and your loved one would like to take a tour of Lorantffy's facility.
Lorantffy Care Center
2631 Copley Rd
Akron, Ohio
Ph: 330.666.2631
www.lorantffy.com