Having been a part of the Warsaw, Indiana community for over 18 years, Brown Enterprises has become a name that families throughout the area can trust. This father-son team not only operates the Warsaw Marathon and Deli Mart where locals visit for their daily fuel, coffee, ATM and snack needs, but they have also been a distributor for Play Mor Swing Sets for the last 12 years. Offering high-quality swing sets from one of the most trusted brands on the market, Brown Enterprises allows families throughout the Columbia City, Indiana; Syracuse, Indiana; North Manchester, Indiana; and South Whitley, Indiana areas the opportunity to pick up their very own wooden play set. But unlike the children's play equipment you normally find in your local big box store, the Play Mor outdoor play sets available from Brown Enterprises can completely change the way you and your family members spend time with one another. So, if you've been thinking of incorporating a play structure in your own backyard as a way of bonding with your little ones, why not take a moment to learn about how Brown Enterprises can help?
Located on US Highway 30 between Kmart and Big R in Warsaw, Brown Enterprises' play structure lot contains a variety of children's play equipment from Play Mor Swing Sets. Along with the quality swing sets you're familiar with, Brown Enterprises also offers wooden play sets in yacht, tree-house, train and castle styles. These outdoor play sets are much more elaborate than traditional styles and allow your little ones to have a more enjoyable playtime activity! Whether they're pretending to be princesses, knights, astronauts, pirates, or train conductors, your children will have a wonderful time playing on their new set and coming up with pretend adventures. Plus, you and the rest of the grown-ups will have a front row seat to all the fun!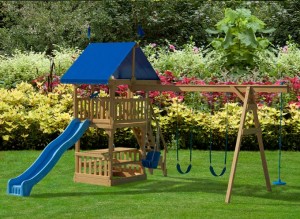 While children adore the specialty play structures available from Brown Enterprises, parents appreciate the fact that this family-owned company offers only structurally sound and high-quality swing sets. Made from treated Southern yellow pine and possessing safety features such as sturdy cross bracing, textured ladder rungs, soft grip swing chains, rounded edges and double-wall slides, these wooden play sets are able to stand the test of time. Parents can feel confident that their little ones are playing on a sturdy outdoor play set that their grandchildren may one day use!
In addition to offering one of the best selections of children's play equipment around, Brown Enterprises also provides families with delivery and installation for their convenience. No matter where you reside in Columbia City, Syracuse, North Manchester, or South Whitley, this father-son team would be happy to bring your Play Mor wooden play set to your backyard. Plus, they will personally put the set together so you don't have to worry about having to do it yourself!
And when you decide to relocate or pass along your Play Mor set to your grown children, Brown Enterprises will even move it for you!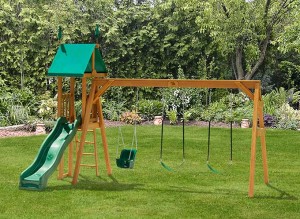 The level of service that Brown Enterprises provides customers is one of the main reasons why so many families come to them for outdoor play sets. So, when you decide that having a wooden play set in your Columbia City, Indiana; Syracuse, Indiana; North Manchester, Indiana; or South Whitley, Indiana backyard would be a good investment for fun family memories, keep Brown Enterprises in mind. Their quality swing sets from Play Mor are sure to top any other children's play equipment you may find! To learn more about the play structures they offer, give them a call at 574.267.7323 or visit the Play Mor Swing Sets website at www.playmorswingsets.com.
Brown Enterprises
3589 Commerce Dr
Warsaw, Indiana
Ph: 574.267.7323
Play Mor Swing Sets
www.playmorswingsets.com