By Fiona Vernon
Jack Frost is in the middle of his stay, so it is the perfect time to tout the benefits of not only metal roofs but the snow guards that protect people and their property. Heating bills increases until homeowners from New Philadelphia, Ohio, to Ashtabula, Ohio, realize that they could lower their utility bills with a Valspar Weather XL Coated Steel roof, which offers double the durability of an asphalt shingled roof and lasts twice as long. When roofing contractors are wondering why they should offer the choice of metal roofing to their customers, they can rely on the expertise of Brightside Metal Roofing. This factory direct metal roofing manufacturer and supplier provides everything from Ag panels to accessories that will complete every project. They custom design, engineer, and manufacture each order to their customer's exact specifications on computerized equipment and have it ready for delivery or pick-up within 24 hours. This includes quality 29-gauge roofing panels and metal siding and any accessory, including Snow Defender cleats. Whether someone in Kent, Ohio, needs roof trim to finish a project or another in Elyria, Ohio, realizes that it would behoove them to offer a wind resistant roof up by the lake, roofing contractors can call Brightside Metal Roofing at 330.805.4505 for superior products and customer service.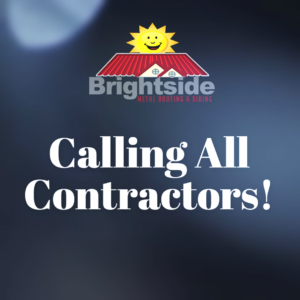 Why should roofing contractors from Ashtabula to Elyria offer their customers a choice of metal roofing? The fact that the lifespan of quality metal roofing and siding is double that of asphalt shingles is only one of the benefits that they offer. Brightside Metal Roofing offers 29-gauge steel panels that are low-maintenance. They are also available in 16 colors, so customers can match them to their current décor. This metal roofing supplier can suggest whether ribbed and standing seam options are best for the situation, offering the highest level of fire and wind resistance. Metal roofing also helps lower utility bills by increasing a home's energy efficiency. Energy Star certified metal roofs feature pigmented coating that is specifically designed to reduce heat. Steel roofs reflect the heat of the sun, lowering the roof's temperature by 50 degrees or more. This means that the heat that gets transferred into the home is reduced, subsequently lowering heating and cooling bills.
Brightside Metal Roofing is a metal roofing manufacturer that not only offers Valspar Weather XL Coated Steel and trim that is custom cut to the requirements of each order and ready for delivery or pick-up within 24 hours, but they also stock metal roofing accessories. One of the most important, yet simple, products for this time of year are Snow Defender cleats. These snow guards are essential for homeowners from Kent to New Philadelphia to keep their families and their property safe. Snow builds up on any roof; however, it will slide off all at once when on a metal roof. Snow guards are typically installed as a barrier to prevent an avalanche that would harm property or people who are on the ground below it. From Ag panels to butyl tape, every roofing contractor can let Brightside Metal Roofing be their one stop source for all metal roofing supplies.
Roofing contractors from Elyria, Ohio, to New Philadelphia, Ohio, who want to attract new customers and grow their business will never look any further after working with factory direct Brightside Metal Roofing. This metal roofing manufacturer has roofing supplies that include Snow Defender cleats, Valspar Weather XL Coated Steel roofing panels and trim, 29-gauge  Ag panels and siding, and all the accessories necessary to complete any job, such as Snow Defender cleats. When contractors are wondering why they should offer their customers the choice of metal roofing, they can explain the features of wind resistant metal roofs and lower utility bills. People from Kent, Ohio, to Ashtabula, Ohio, who want to take advantage of the benefits of metal roofing will love the quality materials and superior service they find at Brightside Metal Roofing.
Brightside Metal Roofing
2587 S. Arlington St.
Akron, Ohio 44319
330.805.4505
https://brightsidemetal.com/
Facebook