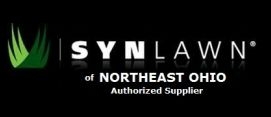 One of the easiest ways to determine whether a product is a good investment is to take a look at some of the other individuals who have used the product in the past. If a reputable business in the Cleveland, Ohio or Akron, Ohio area has used a specific product for one or more of their own projects, it's safe to say the product is worth checking out. A good example is Bluegrass Inc. and their use of artificial grass products from SYNLawn®. This Canton, Ohio-based company recently completed a local dog run for one of their clients using high-quality pet turf from SYNLawn of Northeast Ohio. Since the synthetic turf delivered outstanding results for this application, you can trust that it will do the same for your own home or business.
For nearly two decades, Bluegrass Inc. has been providing clients throughout the Canton, Akron, and Cleveland areas with beautiful landscape designs that are unmatched by any other company. Needless to say, this family-owned and operated business has become the go-to place for landscape lighting, plantings, hardscapes, water features, lawn care, and more. With that in mind, it's worth noting that Bluegrass Inc. recently began using artificial grass products from SYNLawn® in order to better serve clients who are looking for a low-maintenance alternative to natural grass. The synthetic turf options from SYNLawn® can fit virtually any application you may need, as demonstrated by the local dog run Bluegrass Inc. recently completed for one of their own clients.
Though SYNLawn of Northeast Ohio offers artificial grass products for rooftop decks, playgrounds, golf courses, and regular backyards, their pet turf options are especially popular among vet clinics and canine boarding facilities. That's why it comes as no surprise to learn that Bluegrass Inc. recently installed pet turf outside of a nearby doggie daycare. Unlike regular grass, synthetic turf doesn't require constant mowing. Plus, there's no fear of damage from pet urine like there is with a natural lawn. Eliminating the maintenance that comes with having a regular lawn leaves more time for what's important—caring for canine guests. As an added bonus, SYNLawn of Northeast Ohio offers pet turf complete with Zeofill for better odor control, something that Bluegrass Inc. took advantage of when they installed the local dog run for their client.
One look at the local dog run recently completed by Bluegrass Inc. and you'll see a big difference between pet turf from SYNLawn of Northeast Ohio and regular grass. That's why this nearby landscaping company will undoubtedly continue using artificial grass products in many of their projects. If such a well respected business trusts the synthetic turf from SYNLawn®, it's safe to say it will prove to be a wise investment for your own Akron, Ohio or Cleveland, Ohio backyard. So, why not take this opportunity to learn more about the options available from SYNLawn of Northeast Ohio by visiting their website at www.synlawnneohio.com?
If you'd like to receive 10% off your first artificial turf installation, click HERE to take a quick survey!
SYNLawn of Northeast Ohio
4855 Hills & Dales Rd NW
Canton, Ohio 44708
330.639.1564
www.synlawnneohio.com