By Fiona Vernon
For years, Barrington Carpet & Flooring Design–located at 3602 Arlington St. in Akron, Ohio— has been offering a wide range of quality home carpeting products and more for individuals to choose from for their property. Today, this local flooring store continues to offer an exceptional selection of home flooring products from some of the leading name brands in the industry—including Shaw. In fact, Barrington Carpet & Flooring Design is one of the few locations throughout the region that is both a Mohawk and Shaw Flooring Gallery. As such, they are able to offer a larger variety of flooring to accommodate the needs of their customers from Hartville, Fairlawn, Barberton, and beyond.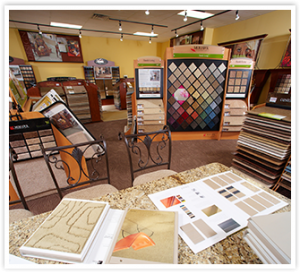 Out of the home flooring products they keep in stock, there is one that stands out from the others: LifeGuard by Shaw. LifeGuard flooring was designed by Shaw for households with pets, children, and for life in general. This is especially true when it comes to the water proof carpeting they have available as part of their Life Happens collection. This specific home carpeting is created with patented LifeGuard backing to make it 100% water proof. LifeGuard carpeting is also designed with R2X Stain and Soil Repellant to protect it from dirt and spills that could otherwise stain the carpets appearance or cause foul odors to develop over time. For added convenience, this stain resistant flooring by Shaw is available in both budget friendly and luxurious options to help more individuals in Barberton, Hartville, and beyond obtain the quality flooring they need for their residence at a price they can afford.
"We found exactly what we were looking for… Our home looks like a showplace!"          – Joe and Jeanette M
Of course, the LifeGuard waterproof carpet isn't the only LifeGuard flooring product available by Shaw. As a matter-of-fact, Barrington Carpet & Flooring Design currently has an extensive selection of Floorte luxury vinyl flooring by Shaw on display in their showroom.  Like the LifeGuard carpet offered by Shaw, Floorte is designed to repeal water and maintain its appearance for many years. Because Floorte is a type of hard surface flooring, it is often placed in kitchens, bathrooms, and other areas that may be exposed to high levels of moisture. However, LifeGuard carpeting is still a favored flooring option for living rooms and other social areas throughout the home where families spend time together.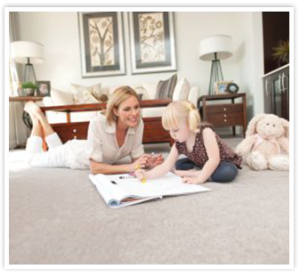 For those that choose not to invest in this stain resistant flooring for their residence, Barrington Carpet & Flooring Design offers another beneficial LifeGuard carpeting product to go along with the Shaw carpeting options they have available: CharityPad. Unlike some padding, CharityPad is designed with Shaw's exclusive Dual R2X Barrier to help keep moisture from penetrating further. It also helps add 7 years to Shaw's carpet texture retention, quality assurance, and abrasive wear warranties when it is installed under the Anso nylon or Clear Touch Pet carpets offered at Barrington Carpet & Flooring Design near Tallmadge. Best of all, a portion of the proceeds for CharityPads are donated to St. Jude Children's Research Hospital when purchased at this local flooring store. With flooring options and benefits like these, it's no wonder so many individuals from Fairlawn and beyond have chosen to invest in their flooring products from Barrington Carpet & Flooring Design.
To learn more about Barrington Carpet & Flooring Design, visit their website at www.barringtoncarpet.com. Otherwise, call 330.896.4141 or visit their physical location to speak to one of their knowledgeable staff members today.
Want to save 15% on your total purchase of $1,000 or more AND get a free bottle of carpet spot remover? Click HERE to take a short survey!
Barrington Carpet & Flooring Design
3602 Arlington St.
Akron, OH 44312
www.barringtoncarpet.com
330.896.4141