By Fiona Vernon
The temperatures are gradually increasing from New Franklin, Ohio, to Clinton, Ohio, and individuals are getting cabin fever with the anticipation of all the things they want to accomplish this spring. Some people plan spring cleaning and home improvements, some plant seeds in preparation for planting season, and some plan the nicer weather for improvements to their vehicles and business. Whether someone in Uniontown, Ohio, needs stone chip protection because of rock salt residue from the roads causing paint damage to their beloved Mercedes, or a driver in Norton, Ohio, wants a clear car wrap or auto bra on their Challenger, they can both count on the extensive experience behind the work provided by Graphic Accents. Not only does this local automotive graphics company offer high-quality and durable vehicle paint protection film in a variety of colors, but they also offer the benefit of cost-effective advertising with their custom designed vehicle and truck graphics. Any sized business can attract new customers or vehicle owners can protect their investments with the wide selection of services offered by Graphic Accents.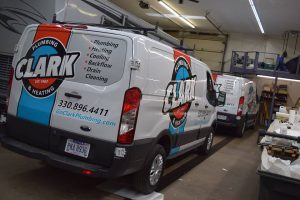 Graphic Accents was established in 1993 with a van, several rolls of automotive pinstripes, and a vinyl cutter that the owner, Rick, kept in his house. They are now in a large 5,000 square-foot building with four employees and multiple large format printers that produce full vehicle wraps, large format prints, signs, and banners. This local automotive graphics company also offers stone chip protection with their high-quality vehicle paint protection film, clear car wraps, and clear auto bras that protect high impact areas of vehicles' paint. They are one of the few 3M certified paint protection film installers from New Franklin to Uniontown, and their combined experience gives them an edge, with the newest hire being eight years in. Because they love what they do and the fact that 3M and Avery-Dennison are constantly researching and upgrading their vehicle paint protection film and printed vinyl wraps, Graphic Accents produces the highest quality custom designed vehicle graphics in appearance and durability.
Custom designed vehicle and truck graphics installed by the experts at Graphic Accents aren't only for a creative touch to a personal vehicle, but they are an extremely cost-effective method of advertising. What better way to generate between 30,000 and 70,000 impressions on a daily basis?! Mobile advertising is by far the most effective and efficient form of advertising, reaching more consumers at a lower cost per thousand impressions (CPM) than any other form of media — including TV, radio, and billboards. The average prime time 30-second TV spot costs $17.78 per CPM, the average 60-second radio drive time ad costs $9.35 per CPM, and a vehicle wrap costs about $.77 per CPM. That's an incredible difference. Instead of a company having to choose a specific audience to whom they will promote their products and services, mobile advertising reaches people of all ages, genders, backgrounds, incomes, and professions. Anyone from Clinton to Norton can call Graphic Accents to attract new customers, increase profits, and boost name recognition.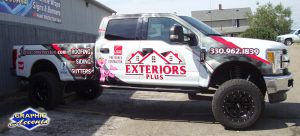 Graphic Accents is the company to call for personal and professional custom designed vehicle graphics, whether someone in Norton, Ohio, wants stone chip protection for their baby or a business in Clinton, Ohio, is looking to increase their exposure to potential customers with the most cost-effective advertising. This local automotive graphics company is the leader in sales and installation of vehicle paint protection film and clear auto bras. Anyone from New Franklin, Ohio, to Uniontown, Ohio, looking for the benefits that clear car wraps and truck graphics can offer will find a trusted business to whom they can return year after year in Graphic Accents.
Graphic Accents
3554 S. Arlington Rd.
Akron, Ohio 44312
330.896.4700
www.graphicaccents.net/
Facebook Page