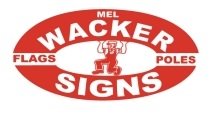 If you are looking for a way to advertise your business in Northeast Ohio, you should consider the prospect of using vehicle lettering. It may seem like a silly concept, but if you consider how many vehicles you pass in Stark County, Ohio as you drive to work, you might see displaying your company logo and number as a lucrative and affordable method of advertising. Mel Wacker Signs' skilled technicians in Massillon, Ohio, offer a variety of services from custom made signs, flags and vehicle decals.
Consulting an ad agency or purchasing a billboard can be costly. With an ad agency, you have to spend countless hours consulting with advertising experts who know nothing about you or your business. Besides, who better to advertise your budding business in Northeast Ohio than the person who knows it best?
Why should you invest in vehicle lettering?
There are many benefits to vehicular advertisement. The first and foremost is cost. Trusting a company such as Mel Wacker Signs in Massillon to do vehicle decals of your company logo and information is the most affordable option at your disposal. Unlike newspaper ads, which only run for a short period of time or television or radio ads, which only air at certain times, your vehicle advertisement will be openly available for potential customers to see for as long you have the vehicle. Investing in a roadside or highway billboard will cost you a lot of money and will limit your exposure to only the location of that billboard. This limited availability could cost you potential customers. Meanwhile, your vehicle serves as a mobile billboard and can produce as many as 40,000 impressions a day as your drive around Stark County.
Vehicular advertisement also creates a positive image for your business. As people see your vehicle pass, they assume you are delivering your product or on the way to provide service to a current customer. When they see you in their neighborhood they believe their neighbors and friends are using your services and this helps create positive feelings towards you and your company.
There are so many ways your business can benefit from investing in vehicle lettering. By increasing your exposure to patrons from all over Northeast Ohio, you stand a better chance of reaching potential customers than those standard means of advertising your business, while not spending a fortune doing so. At Mel Wacker Signs in Massillon, Ohio you will find experienced professionals, whose quality work in creating vehicle
decals, such as your company logo for your vehicle, will last for years to come. For more information about their services or to find out how you can get started on your vehicle advertising in Stark County, Ohio contact them at 330.832.1726.
Mel Wacker Signs
13076 Barrs SW (Rt 93)
Massillon, Ohio 44647