By Gemma Chriss

The goal of any salon visit is to walk out the door looking and feeling better than before. That's why Scott Talbot Salonspa provides clients with a wide range of professional cosmetology services. Individuals throughout the North Canton, Ohio and Green, Ohio areas who are looking for something beyond basic hair and nail care will quickly discover that Scott Talbot Salonspa's team is well qualified to perform more advanced procedures, including salon facials and permanent makeup. Tammy Fair Kegley, a makeup and skin care technician at the Canton, Ohio location, is frequently contacted by those interested in eyelash extensions, eyebrow microblading, microdermabrasion, chemical peels, and more. Having nearly three decades of experience in the field of cosmetology, as well as the proper certification from both the county and state health authorities, Fair Kegley has proven to be an excellent resource for those wanting to learn more about the specialty services available at Scott Talbot Salonspa.
For some, the thought of having permanent makeup applied to the face can be intimidating. However, if Fair Kegley's busy schedule is any indication, more and more people are turning to such procedures in order to reduce the amount of time and money spent on applying cosmetics each day. During the initial consultation, Fair Kegley is able to determine what the client is trying to achieve. Those who have suffered hair loss often benefit from eyebrow microblading, which creates a 3D effect resulting in soft, feathery brows. This type of permanent makeup is frequently utilized by those who want a more realistic look that requires little maintenance. Though eyebrow microblading isn't immune to the effects of sun exposure and skin exfoliation, individuals can go 1-3 years before touch-ups are needed.
Those interested in other types of permanent makeup can also benefit from a trip to Scott Talbot Salonspa's location in Canton. In addition to providing clients with natural-looking eyebrows, Fair Kegley can also offer lasting eyeliner, lip liner, and full lip color. As with microblading, the effects of these procedures can last for years before they begin to fade. Eyelash extensions, on the other hand, are considered to be a semi-permanent option for those who desire a set of thick, full lashes. Since the natural hairs fall out roughly every three weeks, individuals who enlist Fair Kegley's help with eyelash extensions should return each month to have new fibers applied to the lash line with adhesive.
Also included in the impressive list of professional cosmetology services offered by Tammy Fair Kegley at Scott Talbot Salonspa is custom skin care. Since skin care needs vary from one person to the next, Fair Kegley takes the time to learn about each client's concerns beforehand. Those who are embarrassed by facial hair can schedule an appointment for a lip, brow, or full face wax. Body waxes (excluding Brazilians) are also performed by Fair Kegley herself. Residents throughout the Green and North Canton areas who have recently noticed fine lines, deep wrinkles, or sun spots may want to consider a chemical peel or microdermabrasion. While microdermabrasion uses a mechanical instrument to target imperfections, chemical peels use a more aggressive solution that penetrates deeper into the skin. Those who simply want to minimize pores and soften skin can obtain a custom salon facial designed specifically for their needs.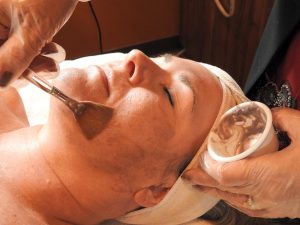 Additional information about the professional cosmetology services offered at Scott Talbot Salonspa can be found by visiting their website at www.scotttalbotsalonspa.com. Those who are interested in a chemical peel, microdermabrasion, or custom salon facial are also welcome to contact Scott Talbot Salonspa directly. Individuals throughout the North Canton, Ohio and Green, Ohio areas who are intrigued by the idea of eyebrow microblading, eyelash extensions, or lip color should note that Fair Kegley will be offering complimentary permanent makeup consultations at the Canton location through the end of March.
Scott Talbot Salonspa
www.scotttalbotsalonspa.com
4080 Fulton Dr
Canton, Ohio 44718
Ph: 330.494.2030
1041 E Turkeyfoot Lake Rd
Akron, Ohio 44312
Ph: 330.896.3476