Even though the weather around Northeast Ohio doesn't quite feel like spring, it's only a matter of time before folks around Stark County, Ohio; Tuscarawas County, Ohio and Holmes County, Ohio will have a chance to enjoy some fun in the sun. Fortunately, if you find yourself in need of a new or used trailer to transport your boat to your favorite fishing hole this spring or just in need of having your trailer fully serviced after being locked away in a shed, then Mr. Trailer Sales is the place for you! They specialize in everything from custom truck beds, enclosed, utility or equipment trailers to parts and accessories.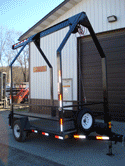 After a long, cold winter in Northeast Ohio, you may find yourself itching to pull out that equipment trailer so you and the family can load up the ATVs and spend some time exploring some of the more rural parts of Tuscarawas County, Stark County and Holmes County. But, before you load it up and hit the road, you should stop on into Mr. Trailer Sales and have your trailer fully serviced. Their full service includes: visually inspecting the frame, checking the tires, lights, wiring, brakes and bearings, replacing any parts that need to be replaced and retorquing the lug nuts. All of which will ensure your vehicle is ready for whatever haul you have waiting for it.
When it comes time to replace that old trailer, you'll be happy to know that Mr. Trailer Sales serves as the area's leading provider of affordable, top-notch new and used trailers. Their selection of equipment, utility and enclosed trailers from quality manufacturers such as Sure-Trac, Moritz, Aluma and Cargo Express, will provide you an opportunity to find an affordable trailer that suits your individual needs. And if you happen to find that you had something else in mind all together, you'll be pleased to find out that they provide custom fabrication of trailers, doors, hinges, tool boxes, ramps, brackets and truck beds!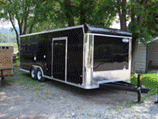 When it comes to anything you need in regards to a trailer or truck bed, you can count on Mr. Trailer Sales in New Philadelphia, Ohio to have the correct answer for you! You can search through their stock of new and used trailers to find one to tow your jet skis out to one of the beautiful lakes in Northeast Ohio this summer, or if you are in need of something more specific, you can take advantage of their custom fabrication services and get the trailer or truck bed that can handle any job. You won't find a better team of skilled professionals in the Stark County, Ohio; Holmes County, Ohio or Tuscarawas County, Ohio area that will do as good of a job as the professionals at Mr. Trailer Sales. For more information about their products and services, visit their website: http://mrtrailersales.com/ or contact them at 330.339.7701 to schedule a full service for your trailer before the springtime rush!
Mr. Trailer Sales
1565 Steele Hill Road
New Philadelphia, Ohio 44663
330.339.7701
http://mrtrailersales.com/