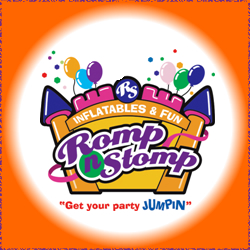 Looking for a unique, creative way to bring a ton of fun to your Cleveland, Ohio organization's next corporate event? How about something engaging, exciting, and insanely memorable for your Akron, Ohio youth or scout group's next outing? If that's you, then you need not look any further than the event and party planning that Romp n Stomp in Medina, Ohio has to offer! Sure, they may be known all around Northeast Ohio as the go-to place for local inflatable rentals and themed birthday parties, but did you know that Romp n Stomp has a unique array of inflatable event packages that will liven up any event without causing a strain on your budget? Not only do they have the ability to drop an inflatable fun zone right where your event is taking place, they are veterans when it comes to stress-free event planning, meaning you can kick back, relax, and have a crazy fun time! Considering that they have anything and everything, from interactive bouncers, obstacle courses, and inflatable slides to temporary airbrush tattoos, games, and a fun-loving staff that is experienced and able to safely monitor, Romp n Stomp has everything you could want when envisioning your next corporate event or group outing!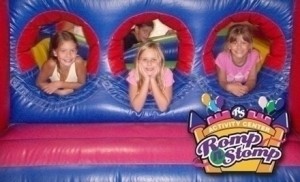 Probably one of the biggest stressors about planning some sort of kid-friendly corporate event is securing the entertainment for all who will be attending. Romp n Stomp has years of experience mapping out events and connecting the dots to bring your venue to life.  They provide competitive pricing, credentials regarding proper licensing, insurance, and ensure back ground checks of event staff.  Their strategic partners within the industry allow them to provide for all of your amusement and entertainment needs.  Romp n Stomp will be your only point of contact instead of multiple phone calls, meaning that they'll gladly manage all of the details. A successful event starts with understanding the needs of their clients, managing all facets of each important detail and deploying the venue on time and with a professional and experienced staff! Their staff's job is to manage those intricacies of your event from start to finish.
Especially if you've got a somewhat limited budget, it may feel like that leaves little options open to you for finding a creative way to keep guests engaged and happy. Be it an outdoor festival or a company picnic for the families of your Cleveland organization, Romp n Stomp can provide you with a unique, fun-filled event that is low on stress and high on excitement and fun for everyone who attends. Not only do they create an inflatable fun zone exactly where you'd like, but they send along a kid-friendly, trained, and certified staff to manage the fun, while keeping the kiddos safe. Imagine, walking into your Akron event, surrounded by larger than life obstacle courses, inflatable slides, and other super cool interactive bouncers – it would be hard not to feel like a kid again!  Be a guest at your event and a hero to your company for a successful event!
What's great about the stress-free event planning that Romp n Stomp makes available to groups and businesses all around Northeast Ohio is the fact that it's so convenient. With all that is included with any of the inflatable event packages, you can easily pick and choose what you'd like to have at your event. From ginormous inflatables and games and prizes to craft tents, food concessions, and temporary airbrush tattoos, Romp n Stomp has everything you would want or need to plan an event that will be remembered for years to come! This Medina based business isn't just concerned with local inflatable rentals; Romp n Stomp is invested in cultivating events that are just as convenient and stress-free as they are insanely fun.
Since the stress-free event planning that Romp n Stomp offers is available to people all over Northeast Ohio, consider learning more about their inflatable event packages for your next corporate event, or even your next group outing! Scout troops, youth groups, Mom groups, field trips, sports banquets, or fundraisers, you name it, and Romp n Stomp will plan an event that will have all of your guests living it up and having a jumpin' good time. It's amazing what their super staff can do, especially when it comes to bringing an inflatable fun zone to Cleveland, Ohio; Akron, Ohio; or wherever else you might like to be in the northwestern part of Ohio! For more information about the local inflatable rentals and event planning available through Romp n Stomp, check out their website at www.rompnstompcenter.net. There, you can browse through an array of inflatable slides, obstacle courses, and interactive bouncers, as well as find inspiration for your next Romp n Stomp event! To get started with the planning of your event, or to inquire about add-ons like concessions and temporary airbrush tattoos, don't hesitate to contact one of the friendly event planners of Romp n Stomp today by calling 234.248.4405.
Want to receive $25 toward adult catering? Click HERE to take a short survey!
Romp n Stomp
900 Medina Rd
Medina, Ohio 44256
Ph. 234.248.4405
info@rompnstomp.net
www.rompnstompcenter.net
Find them on Facebook!