Those of us who live in the Warren, Ohio and Strongsville, Ohio areas know that we need to take advantage of the nice weather while it lasts. Though it may seem like Mother Nature is done punishing us with thick blankets of snow, you just never know when she'll decide to trade in sunshine and warm temperatures for overcast skies and bone-chilling cold. That being said, it's in your best interest to spend as much time outside this spring as possible. And what better spring activity to participate in than outdoor skydiving? April and May are great times to start skydiving as the weather is typically (fingers crossed) fair. Plus, skydiving prices are lower towards the beginning of the season. If you're interested in embarking on a tandem skydive adventure this spring, why not take the trip over to Cleveland Skydiving Center near Cleveland, Ohio to work with their team of experienced skydiving instructors?
Though we all feel a sense of relief when the winter season finally ends, no one is more excited than Cleveland Skydiving Center's team of skydiving instructors. These professional thrill-seekers are out the door and into the plane as soon as the weather allows. And they're especially eager to take beginners out on their first tandem skydive trip! To encourage Strongsville and Warren residents who want to start skydiving, this Cleveland area establishment has even started to offer some great specials that reduce their already affordable skydiving prices!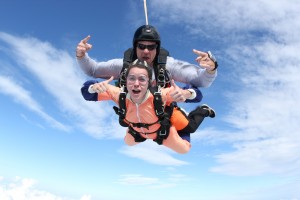 Right now, you can schedule an outdoor skydiving trip at Cleveland Skydiving Center for just $189 a person. As the normal rate during the middle of the season is $239, this is quite the deal! However, this isn't the only spring special that Cleveland Skydiving Center will be running. If you book a tandem skydive now for the month of May, it's only $150 a person! Not only will waiting until May allow you to decrease your skydiving price even more, but chances are that the weather will be a little more agreeable then. After all, April showers do bring May flowers…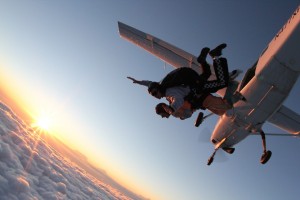 Speaking of flowers, you can look forward to a beautiful view of the landscapes surrounding the Cleveland, Ohio area when you go on your first tandem skydive! And who wouldn't enjoy looking out over trees, flowers, and even skyscrapers while drifting down from 10, 500 feet? To learn more about this outdoor skydiving facility and what they have to offer, visit their website at www.clevelandskydivingcenter.com. If you have any questions for the skydiving instructors at Cleveland Skydiving Center, just give them a call at 330.977.7510. But if you want to take advantage of the nice weather and Cleveland Skydiving Center's fantastic skydiving prices now, send an email to jump@clevelandskydivingcenter.com to reserve your spot for April or May. After you check the weather conditions for the day of your reservation, just take the trip from your Strongsville, Ohio or Warren, Ohio home to start skydiving this spring!
Cleveland Skydiving Center
15199 Grove Rd
Garrettsville, Ohio 44231
Ph: 330.977.7510
www.clevelandskydivingcenter.com
jump@clevelandskydivingcenter.com