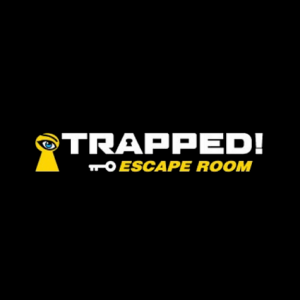 By Gemma Chriss
Those on the hunt for fun things to do while the kids are on break will be pleased to learn that Trapped! Escape Room is running a spring special on their family-friendly puzzle challenges. Residents throughout Brooklyn, Ohio; Brook Park, Ohio; Parma Heights, Ohio; and beyond can save big on their next visit to the escape room location nearest them by taking advantage of this deal. All of the experiences at Trapped's group gaming facilities may be booked at a discounted rate, allowing guests to take part in an inexpensive and unforgettable weekend activity with friends and family members.
For those who have yet to visit either group gaming facility, Trapped! Escape Room offers a variety of puzzle challenges for guests to complete. At the Cleveland Heights location, individuals can spend sixty exciting minutes in The Cell, Pirate Tavern, Chainsaw, or Apocalypse: The Beginning. Those who opt to visit Middleburg Heights can take part in The Inside Job or the newly opened Labyrinth. Each escape room experience is designed to push participants' clue-finding and puzzle-solving abilities to the max. Only by working as a team can guests hope to "escape" before time runs out. Though some experiences, such as Chainsaw, may be scarier than others, Trapped! Escape Room strives to provide guests with family-friendly entertainment. Those who are struggling to find fun things to do with the little ones during spring break can feel confident that a visit to one of these group gaming facilities will be a unique weekend activity they won't soon forget.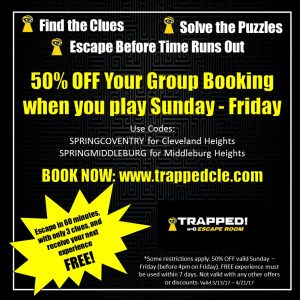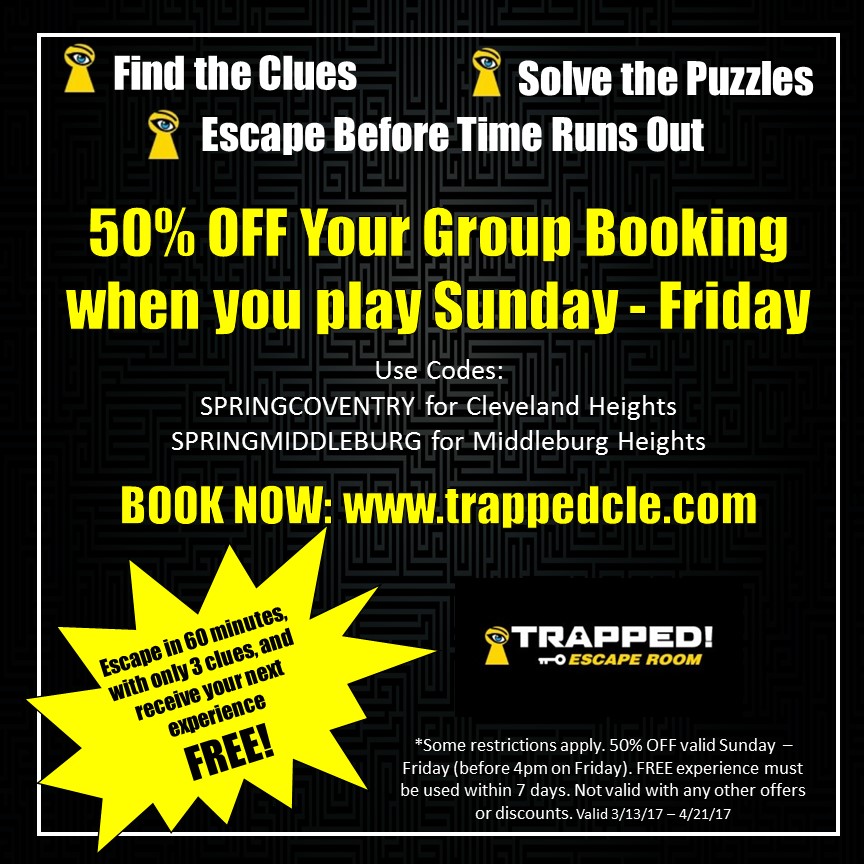 Though regular pricing for participation is very reasonable, individuals will be happy to find that Trapped! Escape Room is running a spring special that will allow guests to receive a discount on the puzzle challenge of their choice. From now until April 21st, residents throughout Brooklyn, Brook Park, Parma Heights, and beyond can get 50% off their group booking when they play Sunday-Friday. It should be noted that some restrictions apply. Individuals who choose to visit on a Friday may only receive the reduced price when they schedule their spot before 4 PM. As an added bonus, teams that escape in sixty minutes with only three clues will receive their next experience for free.
To take advantage of Trapped! Escape Room's spring special, individuals are encouraged to visit www.trappedcle.com to book their family-friendly experience. Those who are interested in playing one of the escape room games at the Cleveland Heights location should use the code SPRINGCOVENTRY at the time of checkout, while those who would prefer one of the Middleburg Heights' puzzle challenges should type in SPRINGMIDDLEBURG. Additional information about each group gaming facility can be found online as well. Residents throughout Parma Heights, Ohio; Brook Park, Ohio; Brooklyn, Ohio; and beyond who have questions about visiting Trapped! Escape Room for a fun weekend activity can send an email to info@trappedcle.com or call the location nearest them. Those searching for things to do during spring break should book their experience soon as the current deal is only available until April 21st.
Trapped! Escape Room
www.trappedcle.com
info@trappedcle.com? Subject=Mail from Your iShop Blog