By Gemma Chriss
Special occasion hairstyling is one of the most popular services available at Scott Talbot Salonspa. Residents from Hudson, Ohio; North Canton, Ohio; Alliance, Ohio; and beyond frequently visit one of the hair salon's two locations to obtain the help they need before a big event. Those looking for the perfect bridal or prom updo can count on the experienced hair stylists at Scott Talbot Salonspa to offer specific recommendations as well as valuable tips. From intricate hair braiding to soft and subtle hair curling, the technicians at Scott Talbot Salonspa do it all—making their team an excellent resource for individuals who are unsure which look would best fit their features.
To ensure the success of one's special occasion hairstyling project, it's important to know when to schedule an appointment at the local hair salon. One of Scott Talbot's own hair stylists, Kara Scott, encourages brides-to-be to call ahead for trial sessions. By coming in for a practice run, clients can explain what it is they're looking for in terms of a bridal updo. The hair stylists at Scott Talbot can then play around with hair braiding and curling techniques to see which will best complement a client's dress, makeup, flowers, and theme. It also provides clients with the opportunity to bring up their likes and dislikes while they're in the chair. To avoid running into scheduling conflicts, clients should try to book their trial session roughly two months ahead of time. For the actual wedding hairdo, clients should shoot for five months.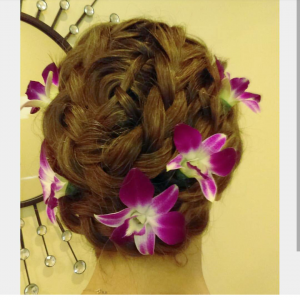 Those who have no idea which route to take when it comes to special occasion hairstyling will be pleased to learn that Scott Talbot's hair stylists can offer some much-needed advice. For starters, it's crucial to select a bridal or prom updo that highlights the face rather than taking away from it. Those with round faces tend to look best with side swept styles featuring soft, loose strands that frame the face. Those with long faces should consider a long side braid or a half-up, half-down style. Specific looks tend to vary from one person to the next, with some choosing big bohemian braids and others opting for formal chignons. Whatever the case may be, individuals throughout Hudson, North Canton, Alliance, and beyond should bring along any accessories they'd like to use in their locks for the big day.
In addition to bringing along a photo of the bridal or prom updo one desires, those who plan to schedule an appointment at Scott Talbot Salonspa should let the receptionist know if they have an especially full head of hair. Notifying the hair stylists of this ahead of time allows them to better prepare for special occasion hairstyling. Those who are interested in some of the hair braiding and curling techniques used at this reputable hair salon should consider reaching out the staff at one of Scott Talbot's two locations. Individuals throughout North Canton, Ohio; Alliance, Ohio; Hudson, Ohio; and beyond will undoubtedly be thrilled with how the salon's technicians add creative twists to popular styles.
Scott Talbot Salonspa
www.scotttalbotsalonspa.com
4080 Fulton Dr NW
Canton, Ohio 44718
Ph: 330.494.2030
1041 E Turkeyfoot Lake Rd
Akron, Ohio 44312
Ph: 330.896.3476