By Fiona Vernon
Since 1980, Savarino Brothers Garden Center near Bedford has been providing a wide range of quality mulch products and more at an affordable price. With years of experience in the business, their knowledgeable staff members can help individuals find the ideal mulch products to compliment their current landscape design. After all, Savarino Brothers Garden Center carries an assortment of dyed mulch products as well as their own natural mulch. Unlike the dyed mulches they offer, this natural mulch product is double shredded by this full service garden center at their location. By creating this dark brown hardwood mulch for resale, they're able to offer property owners from Cleveland, Streetsboro, Aurora, and beyond the opportunity to invest in a more natural mulch product that what may be offered at other locations.
Of course, many individuals have already set their mulch down for the season to update the exterior appearance of their property and its overall landscape design. Unfortunately, these same individuals may begin to notice that their mulch may not be as vivid as it was when they first installed it. Savarino Brothers Garden Center near Bedford wants individuals to know that this is a common problem with both dyed and natural mulch products and is completely natural. In fact, it is consistent exposure to sunlight, rain, and more that begins to wear on the color of mulch. Over time, this can lead to a less vivid color.
Luckily, mulch maintenance is easy to perform in situations like these. To refresh the appearance of mulch, property owners only need to rake it. In doing so, mulch that was buried underneath the first layer is able to be brought to the surface to refresh the appearance of the mulch beds themselves. Depending on the type of wood mulch being used, fully turning it over can bring out the beautiful color the mulch beds had before.
Although it may be tempting to add a layer of mulch to the existing beds as part of mulch maintenance, Savarino Brothers Garden Center advises against it. This is because new mulch added to a layer of old can cause the older layer to decompose at a slower rate. In turn, too much mulch can cause plants to rot due to frequent moisture brought on by the excess mulch. They can also become starved for nutrition, eventually resulting in their death. For this reason, old mulch should always be removed before being added to an existing bed.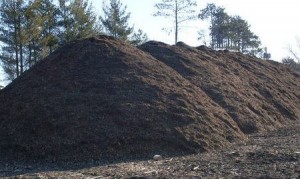 Should a property owner be willing to fully remove their old mulch and replace it with new, they should make Savarino Brothers Garden Center their first stop. Here, individuals from Cleveland, Aurora, Streetsboro, and beyond are able to select from dyed mulches in red, black, and brown. Because these mulches are dyed, they tend to hold their color long than that which has not been dyed. However, this full service garden center does offer their own natural mulch in a dark brown for those who prefer mulch that is undyed. They even offer organic Sweet Peet mulch. With so many quality options to choose from, it's no wonder so many individuals have chosen to invest in their mulch and more from Savarino Brothers Garden Center over the years.
To learn more about Savarino Brothers Garden Center, visit their website at www.savarinobrothers.com. Otherwise, feel free to visit their physical location or call 440.439.5358 to speak to one of their knowledgeable staff members today.
Savarino Brothers Garden Center
24670 Broadway Ave
Oakwood Village, Ohio
www.savarinobrothers.com
440.439.5358