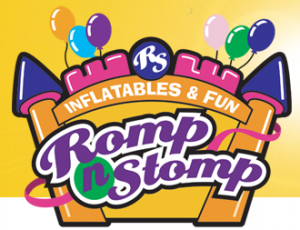 While your kids may be looking forward to the freedom that spring break affords them, the thought of your Fairlawn, Ohio or Copley, Ohio children lazing about for days on end may have you dreading their time off school. It's hard to find interactive kids activities for them to enjoy every day of break, let alone activities that keep them engaged and active. Fortunately, there is a nearby kids camp that will be taking place at Romp n Stomp that will feature super fun games and activities, plenty of playtime, hot lunch, and of course, access to this local party center's popular indoor inflatables. Viewed as many Medina, Ohio parents' top choice for a themed day camp, the Spring Break Kids Camp taking place at Romp n Stomp is sure to blow your kids away!
Of course, it's one thing to have a place for your children to be during their days off of school, but most Medina area parents want to know that there will be some sort of structured activity taking place. Rest assured that there will be plenty of structure and interactive kids activities throughout the course of Romp n Stomp's Spring Break Kids Camp, which will take place from Monday March 30th through Thursday April 2nd. Camps are designed to drop off the kids and our center will be closed to the public during this camp.   Our doors will lock at 9:30 and reopen at 2:30.  In fact, your kids will be so busy playing and having fun, they'll be totally tuckered out by the time this themed day camp ends at 2:30pm every day. Each day of camp will feature a different theme – Magic Monday, Tropical Tuesday, Wacky Wednesday, and Rock Star Thursday. All you have to do as the parent is drop them off at this local party center by 9:30pm each day, and the friendly, professional Romp n Stomp staff will take care of the rest!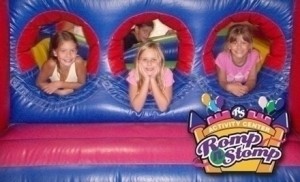 What's nice about Romp n Stomp's Spring Break Kids Camp is the fact that it exists as a nearby kids camp that is convenient for all children aged 4-10 years from the surrounding areas of Copley and Fairlawn to attend. And this isn't just a day camp – it's four fun-filled days filled with tons of open-play on all of Romp n Stomp's larger than life indoor inflatables, interactive games, amazing prizes, and the chance to have a blast with other children from nearby cities. Factor in the friendly Romp n Stomp staff members, who love hanging with kids and helping them have the most fun possible, and your kids will have an exciting experience that they'll be dying to tell their friends about once school is back in session.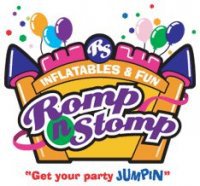 What more could you want for your Fairlawn, Ohio or Copley, Ohio children during their school's spring break? You won't find another nearby kids camp or themed day camp that can offer as much fun and interactive kids activities as the Spring Break Kids Camp at Romp n Stomp! What with their staff, their enormous indoor inflatables, the quality of structured activities and potential for fun, Romp n Stomp has everything your children could want while enjoying their spring break. For more information about this local party center and their Spring Break Kids Camp, visit the Romp n Stomp website at www.rompnstompcenter.net. There, you can register your children for camp, as well as find a schedule of each day's fun themes. For questions, do not hesitate to contact a member of the Romp n Stomp staff by calling 234.248.4405.
Want to receive $25 toward adult catering? Click HERE to take a short survey!
Romp n Stomp
900 Medina Rd
Medina, Ohio 44256
Ph. 234.248.4405
info@rompnstomp.net
www.rompnstompcenter.net
Find them on Facebook!