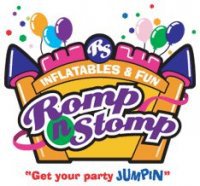 If you're a mom (or dad) and you've got a child's birthday coming up, it can feel like the pressure is on to get the party planning started. And there's always so much to do, too, like find a birthday party venue, pick a fun birthday theme, decide on the food, and most of all, how many kids will show up…it's overwhelming! Fortunately, there's an excellent inflatable party center that is the one-stop shop party planning service you need to plan your child's best birthday yet – Romp n Stomp of Medina, Ohio. Whether you're looking for the latest in kid's birthday trends for an indoor birthday party, or you want something different when it comes to throwing a themed children's party, Romp n Stomp is the premier party planning center and party venue of Wayne County, Ohio and Summit County, Ohio. Their staff will create those magical, fun-filled moments and wonderful birthday memories, all the while you get to avoid the stresses of planning a birthday party by yourself.
What sets Romp n Stomp apart from other kid's party centers or party planning businesses is the fact that their structured and interactive inflatable party center is especially ideal for those wishing to plan an indoor birthday party for their child. Fall birthdays can get tricky because the weather is anything but predictable. Plus, your child may feel like an indoor party is boring and not as much fun. This is not the case with this Medina birthday party venue! All of Romp n Stomp's party packages are designed with action packed fun that does not require tokens to keep the kids busy. The staff members actually play with the kids and entertain throughout the whole party.  Not only will your child be the star of the party, but all of the children you invite are guaranteed to have a blast. Romp n Stomp's goal is to make extra special moments to create the WOW in each party.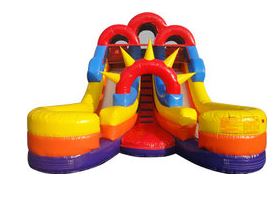 Of course, the clean, private, and interactive environment of Romp n Stomp isn't the only reason why many Summit County and Wayne County parents have chosen to plan their kid's birthday party at this party venue. Romp n Stomp goes above and beyond when it comes to their kid's party planning services. Think about it – what child wouldn't want to go to a frozen princess party or a ninja turtle party and meet their favorite character? Or better yet, why not turn down the lights at night for a Glow in the Dark Party or PJ Party? Nerf Wars Party is their latest theme.  Romp n Stomp constantly strives for the best ideas and packages available today when it comes to hosting themed children's parties. Plus, when it comes to the actual planning of the party, the Romp n Stomp staff does everything for you! They'll personalize and customize your child's birthday party to fit their personality, they provide delicious food, including adult catering for the parents, and they even play good old fashion games.  They truly are a one-stop shop, which means all you have to do is show up with the birthday kid and your camera. When was the last time you were able to just show up to your child's birthday party and feel like a guest?
When it comes to throwing a memorable, organized, and flat out fun indoor birthday party, Romp n Stomp really takes the cake. There are happy and satisfied parents from all around Wayne County, Ohio and Summit County, Ohio who can vouch for the success of their children's birthday parties that were planned by the Romp n Stomp inflatable party center staff. Actually, Romp n Stomp has a longstanding reputation for providing high quality party planning services and themed children's parties. Their party services are known for how inclusive they are – each Romp n Stomp party has something for everyone. If you'd like to learn more about this amazing birthday party venue and its quality birthday services, you can visit the Romp n Stomp website by visiting www.rompnstompcenter.net. There, you can view current party theme packages, browse pictures from their fantastic center, or even book your child's party from their website. Of course, if you have any questions at all about packages, pricing, special accommodations, or dates availability, don't hesitate to contact the Romp n Stomp staff! You can send an email to info@rompnstomp.net, or speak to one of their friendly associates in person by calling 234.248.4405 today. The Romp n Stomp staff would love to help you plan your next birthday party and get the kids jumpin'.
Want to receive $25 toward adult catering? Click HERE to take a short survey!
Romp n Stomp
900 Medina Rd
Medina, Ohio 44256
Ph. 234.248.4405
info@rompnstomp.net
www.rompnstompcenter.net