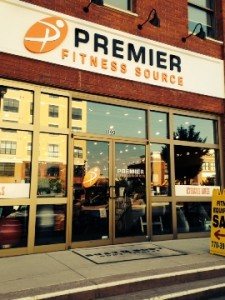 By Fiona Vernon
Working out at home is convenient and saves time if someone is lucky enough to have the space in which to set up a home gym. Whether it's in an extra room of a Hilton Head, South Carolina, home or a basement in Buford, Georgia, laying the space out is the fun part. The experts at Premier Fitness Source can help guide anyone with their home gym layout, and one of the first decisions to make is what home gym flooring would be best suitable for one's needs. What works for the rest of the house won't necessarily work in the gym, because cushioned flooring like rubber fitness flooring or interlocking carpet tiles is best to absorb impact so as not to stress one's joints during a workout; additionally, some flooring can help alleviate noise and vibration. The durability of the floor is important, too, since one doesn't want something that might splinter or break if weights are dropped on it. A hard floor, such as a synthetic wood grain surface, is best for heavy machines like those with cable-pulley systems to create stability and keep them evenly balanced. PFS' main suppliers of flooring are Ecore Flooring and Humane Manufacturing, experts in gym surface options. From Atlanta, Georgia, to Savannah, Georgia, each location of this fitness equipment store has everything necessary to help fitness enthusiasts create an effective and safe home gym.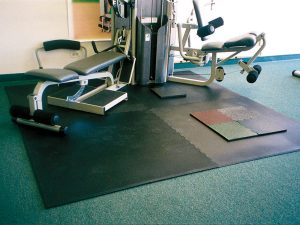 Deciding what exercises and machines will be necessary to target the areas that an individual wants to focus on, whether it be a variety of muscles utilized in strength training, cardio or both, will help make the room as successful as possible. One of the decisions included in setting up a fitness space is the type of home gym flooring that will be most effective. Atlanta-based Premier Fitness Source relies upon two main suppliers that effectively provide any variety of flooring to fit one's needs. Humane Manufacturing offers a variety of recycled rubber fitness flooring options that deliver safe, durable, and effective solutions to meet anyone's specifications. They offer such products as SuperSport™, a premier line of fitness matting that is designed to protect floors and fitness equipment, as well as Guardian™, an industry standard for recycled rubber interlocking floors that can be used wall-to-wall or stand alone within a room. Shok-Lok™ is their newest line of flooring, which helps alleviate the problem of noise and vibration. Anyone from Hilton Head and beyond can make one call to the experts at Premier Fitness Source or visit any location for information on having them install these products in their home.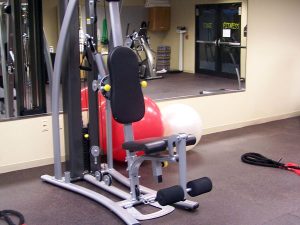 Premier Fitness Source also carries ecore™ flooring so that they can supply a vast array of gym surface options. Ecore™ flooring transforms reclaimed waste into unique surfaces, while they engineer performance related to acoustics, ergonomics, and safety. Rubber is the ideal choice for fitness flooring, available in basic rolls and interlocking tile floors, because it absorbs impact force — making it perfect for cardio and strength training. Their UltraTile™ is a 2×2 foot, one inch recycled rubber reliable for free weights and dumbbell areas, and their Regrind product is ideal for CrossFit applications with it being sound and shock absorbent, and SmashTile is a 2×2 foot, 2.5-inch slip-resistant molded tile designed for areas where extreme durability and ultimate sound and shock absorption are required. Bounce 2 is a synthetic wood grain surface that is quiet underfoot, low-maintenance due to the protective wear layer, and perfect for placing beneath cardio equipment — like treadmills, elliptical trainers, and rowing machines. Anyone in Buford and beyond looking for the durability and impact absorption of interlocking carpet tiles can also find them at this comprehensive fitness equipment store. Premier Fitness Source can supply individuals in and around Savannah with anything to accommodate their home gym flooring needs.
Deciding to have the convenience of working out at home and setting up a workout room should be a fun experience. The knowledgeable professionals at Premier Fitness Source can not only help anyone from Hilton Head, South Carolina, to Buford, Georgia, determine which fitness equipment and layout will best suit their needs, but also what home gym flooring will. Whether someone in Atlanta, Georgia, is looking for flooring to alleviate vibration or another in Savannah, Georgia, requires flooring that absorbs impact, this fitness equipment store works with Humane Manufacturing and Ecore flooring to supply a vast array of gym surface options. Rubber interlocking pieces and longer rolls of fitness flooring are safe, durable, protective, slip resistant, and absorb shock, sound, and vibration; whereas synthetic wood grain surface is good for under cardio machines and weight benches. Interlocking carpet tiles are common because homeowners are used to the care of the material, yet they are durable and absorb impact. One call or visit to Premier Fitness Source can answer any question a fitness enthusiast may have on what flooring will best apply to any room that they are creating.
Premier Fitness Source—Committed to MORE than your satisfaction
www.premierfitnesssource.com
Perimeter Store
4520 Olde Perimeter Way
Suite 100
Atlanta, Georgia 30346
Ph: 770.391.0005
Alpharetta Store
800 N Main St
Suite 120
Alpharetta, Georgia 30004
Ph: 770.686.3115
Buckhead Store
277 Pharr Rd NE
Atlanta, Georgia 30305
Ph: 404.458.2133
Savannah Store
6850 Abercorn St
Savannah, Georgia 31405
Ph: 912.354.0110