By Gemma Chriss
Akers Signs is frequently called upon to create architectural signage for establishments in Canton, Ohio; Akron, Ohio; Cleveland, Ohio; and beyond. However, many people are unaware of the fact that this local sign business has developed a relationship with Ohio History Connection that has allowed them to create main site signs and way-finding signs for more than 50 locations throughout the state. Recently, Akers Signs finished a number of post & panel signs and monument signs for some of the organization's most popular facilities around the greater Columbus, Ohio area.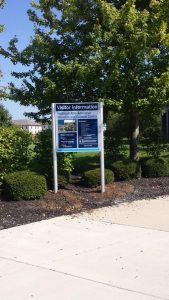 Since Ohio History Connection's mission is to "spark discovery of Ohio's stories," it's important for each one of their historic sites and museums to be easily identified by visitors. To achieve that goal, they enlisted the help of Akers Signs—a sign business with a long history of providing design and installation services to establishments throughout the state. Akers' team works one-on-one with clients to produce eye-catching signage that will bring in new visitors without clashing with the establishment's aesthetic. Having crafted a significant amount of architectural signage for locations throughout the Canton, Akron, and Cleveland areas, Akers Signs was the perfect choice for Ohio History Connection to highlight their many facilities across the state.
Initially, Akers Signs was merely brought in to create main site signs for Ohio History Connection's locations in Columbus and beyond. The monument signs they were commissioned to construct for the organization all feature a similar theme that allows for a seamless transition from one location to the next. The display in front of the National Afro-American Museum and Cultural Center provides an excellent example of the site signs Akers' team is able to create. Not only is the display both appealing and structurally sound, but it's clearly visible from the road so passersby won't miss it on their way to the museum.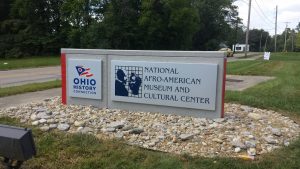 The effort put into creating the monument signs for Ohio History Connection did not go unnoticed. Since Akers' team did such an impressive job with design and installation, they are now working on way-finding signs for each of the organization's many locations. These post & panel signs will provide additional information to tourists, as well as instructions on how to arrive at one's desired location. This sign business plans to have all of these way-finding signs completed in the coming months, so visitors will have a much easier time navigating the various museums and historic sites across the state.
To view some of the completed way-finding signs and main site signs that Akers' team created for Ohio History Connection, visit their website at www.akerssigns.com. Their online gallery is filled with photos of architectural signage they installed for establishments in Columbus, Ohio; Cleveland, Ohio; Akron, Ohio; Canton, Ohio; and beyond. Additional information about post & panel signs and monument signs can also be found online for greater convenience. Those with questions about obtaining signage for one's own facility are encouraged to contact this sign business through their online form or by calling 330.493.0055.
If you'd like to find out how you can get a new sign for your business from Akers Signs for just $10 a day, click HERE to take a short survey.
Akers Signs
Ph: 330.493.0055
www.akerssigns.com