By Fiona Vernon
Since its invention, photography has played an important role in the lives of many individuals in the Canton area and beyond. Through photographs, people, places, things, events and more can be preserved for future generations. Not only this, but photographs have a way of keeping the memory of certain moments fresh for those that lived them. Today, digital cameras and cell phones allow anyone to be able to take a photograph.
Unfortunately, the materials used to print these photographs are often low grade and will degrade faster over time than those used by a professional photography studio. Furthermore, the cameras clarity, lighting used, and many other factors could lessen the overall appearance of the photo taken. Due to an inability to gather everyone to a local photography studio, however, obtaining the professional photographer services needed to preserve a special event in Hudson or the surrounding area is not always possible.
Professional photographers Andy and Terri of Lyons Photography understand this, and that is why they are happy to offer professional on-site photography services to many areas surrounding their studio's location. Although this form of photography may take place away from their studio—located at 2015 S. Main St in Akron, Ohio— the quality of the photographs these experts take remain the same. In this way, Lyons Photography is able to provide clients from Canton, Cuyahoga Falls, Hudson and more with the beautiful and long-lasting photos they want to preserve a special event in their life.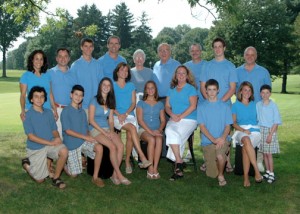 One type of special event that Lyons Photography has photographed over the years is that of family reunions. Although many families hold reunions yearly, certain family reunions only happen once every few years. In some cases, these reunions can draw in individuals from across the country to meet up and spend time together after many years of being apart. Because it is not often that so many individuals from varying locations can spend time together, many want to preserve these memories to share with future generations. To help these clients capture this special event for posterity, Lyons Photography's expert photographers Terri and Andy gladly provide reunion photography outside of and inside of their studio in Akron.
By offering reunion photography services away from their studio, these professional photographers are able to capture special events in ways that may not be possible at their studio. Furthermore, on-site photography allows for more individuals to be photographed at one time than what may be feasible inside the studio itself.  For this reason and more, many choose to invest in anniversary photography from Lyons Photography as well as reunion photography.
After all, anniversary celebrations can be just as large in group size as any family reunion. Often, these events can draw in friends and family members from across the country as well –especially for 25th anniversary and 50th anniversary milestones! Instead of taking away from the special event to have photos taken at their studio, Lyons Photography offers anniversary photography and more on-site at these events in the Cuyahoga Falls area and beyond to capture special moments as they happen. Not only does on-site photography provide more relaxed and natural photographs, but ones that can be cherished for many years to come—regardless of the event being photographed! For this reason and many others, individuals from across the region have chosen Lyons Photography for all of their family's photography needs over the years.
To learn more about Lyons Photography and the services they offer, visit www.lyonsphoto.net or e-mail your questions to lyonsphoto@aol.com. Otherwise, feel free to call 330.773.5071 or stop by Lyons Photography's physical location to speak with professional photographers Andy or Terri today.
Lyons Photography
2015 S. Main St.
Akron, OH
www.lyonsphoto.net
330.773.5071
lyonsphoto@aol.com