Maintenance is a must for commercial property. And we're not just speaking of interior upkeep. Exterior grounds also require attention whether you're looking to lure new tenants or encourage existing leaseholders to renew. That's why DeSantis Enterprises is the company that apartment complex managers, strip mall owners, and others with large-scale landscaping needs count on. Based in Canton, Ohio and serving Stark County, Ohio; Summit County, Ohio; and surrounding areas, DeSantis Enterprises has lot clearing, brush hogging, and wholesale mulch services that make spring cleanup easy and affordable!
We're placing emphasis on spring cleanup merely because of the shriveled brush, dead trees, and dried mulch winter has left behind. You've seen it, we've seen, and we're all ready to see it go! But you should know that just as DeSantis Enterprises can wipe away winter and refresh your grounds now, so can its team keep your areas clean and well groomed all year. And their expertise can be applied to high traffic commercial properties as well as large portions of open land.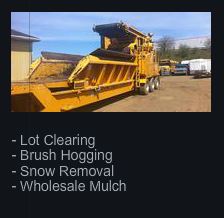 Lot clearing and brush hogging are usually atop every landowners to-do list at the onset of spring. After the record-setting winter we've just survived, these services are needed by seemingly everyone! As are tree removal and mulch replacement for commercial property managers and others interested in, or responsible for, keeping up appearances. Brown grass sprinkled with tattered trees, ragged shrubs and broken tree limbs simply won't cut it.
Fortunately, the lot clearing and brush hogging team from DeSantis Enterprises in Canton will cut and remove it all! Once the damaged debris is gone, this comprehensive team can then provide wholesale mulch for added landscape protection, visual appeal, and savings. Should you have trees and shrubs that you either save or replace, this benefit can help you prepare them for the blazing summer ahead. Calculated amounts of wholesale mulch can also stand alone and enhance your landscape with less than minimal upkeep.
We realize that winter-ravaged greenery may not be the only thing you need removed right now. Many structures from small outbuildings to multi-level buildings did not fare with under the weight of snow of ice either. And before you let your portfolio be polluted by blighted property, know that you can call DeSantis Enterprises for demolition and excavation services too. In addition to lot clearing and brush hogging, the versatile team demolishes buildings in Stark County, Summit County, and other parts of Northeast Ohio.
To get your spring cleanup underway, call DeSantis Enterprises at 330.454.5678. If you'd like to know more about the company and its services, go to www.desantisenterprises.net. Granted lot clearing, brush hogging, and wholesale mulch may be your main interests today. This company's demolition and excavation, bobcat and backhoe services, or even its heavy duty towing and auto repair may meet your needs tomorrow. Surprised to know you can get all of that from this one company? We understand! And we invite to get familiar with this commercial resource. Because if you operate a business in or near Stark County, Ohio or Summit County, Ohio, you can count on DeSantis Enterprises for more than you might expect!
DeSantis Enterprises
3060 Columbus Road NE
Canton, Ohio 44705
330.454.5678
www.desantisenterprises.net