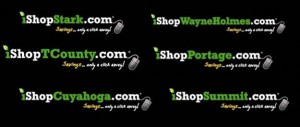 Since setting up shop 5 years ago, iShopMedia has become a staple in the Northeast Ohio region. And for the second year in a row, they are offering $1 gift cards to many local businesses throughout the area during a Cyber Monday promotion. With a number of popular websites including iShopCuyahoga.com, iShopSummit.com, iShopStark.com, and iShopTCounty.com (Tuscarawas), they have become a favorite website for consumers who want to shop locally and save money. Six days a week, over 200,000 people receive emails containing deals from local businesses within Cuyahoga County, Summit County, Stark County, and Tuscarawas County. With everything from restaurants and car repair shops, to salons and home improvement stores, consumers are able to get coupons for the products and services that they need. One of the most popular features on the iShop websites is Gift Certificate Central.
On Gift Certificate Central there are dozens of discounted gift cards on sale for half price or better to the local Northeast Ohio retailers who advertise on the site. Every day there are a few featured gift cards that are reduced even more than 50% off, and sometimes there are across-the-board discounts for the entire order that someone places. Many of the gift cards can be purchased online and printed immediately, while some will be mailed to the consumer. Don't have a printer? They took care of that too. Just request to have the gift cards printed for you and you will receive them in the mail within one week of your order.
For the second year, iShopMedia is going to run an unbeatable special on the Monday after Thanksgiving—what has been dubbed Cyber Monday. For one hour, from 12:01 to 1:00am, each gift card on the site will be on sale for ONLY $1. Last year they had so much traffic that the server could not handle it. This year they are better prepared, and are excited to have even more consumers on the sites. But the sales don't stop when the clock strikes one. After the $1 Cyber Monday promotion, there are even more gift cards released at still greatly reduced prices so you can continue to shop locally and save money. The gift cards available and the pricing for each will change throughout the day, so iShop recommends logging on more than once. Just visit the designated website for Cuyahoga County, Summit County, Stark County, or Tuscarawas County.
The great thing about the Gift Certificate Central sale and the Cyber Monday promotion in general is that you can get so many holiday gifts purchased without having to leave the house and fight the crowds. With iShop you are able to shop locally and still save money. It makes many consumers feel better than simply buying gifts or gift cards from sites headquartered around the country or from the other side of the world. Every gift card purchased and every coupon printed is provided by retailers located right here in the Northeast Ohio area. If you're a resident of Cuyahoga County, Ohio; Summit County, Ohio; Stark County, Ohio; or Tuscarawas County, Ohio, you'll definitely want to participate in this online shopping event. So, make sure you're by your computer, iPad, or smart phone on Monday, November 26th from 12:01 to 1:00am to take advantage of iShopMedia's fantastic deals!
To take advantage of great deals in your area, visit your local iShop site's Gift Certificate Central:
Stark County
Summit County
Cuyahoga County
Tuscarawas County