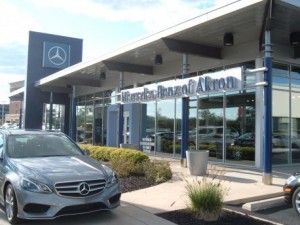 By Fiona Vernon
Over the years, Mercedes-Benz of Akron has helped numerous individuals throughout the Northeast Ohio region obtain the personal vehicle they need for their day-to-day travels. Today, this local auto dealer near Cuyahoga County continues to help their customers find the vehicle that's right for them by offering personal vehicles and commercial vehicles at their location. For local business owners looking to obtain a new commercial van, Mercedes-Benz of Akron proudly offers the new Sprinter 4×4.
Unlike Sprinter models before it, the Sprinter 4×4 cargo van has four-wheel drive capabilities and features 24 inches of wading depth. This raise in wading depth allows for better clearance of raised ground, such as snow and more. This affordable commercial van also has high/low range options to help ensure maximum traction on steep grades or on difficult terrain is possible during work travels through the Summit County area and beyond. For added convenience, this 4WD van with standard V6 engine is available in two different styles: cargo and passenger.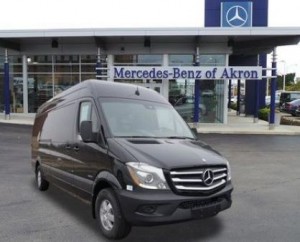 The Sprinter 4×4 cargo van has a cargo volume of up to 530 cubic feet. For businesses that transport goods, this cargo volume coupled with an interior height of up to 77.8 inches could be exceptionally beneficial. Because road conditions can be rough, these affordable commercial vans come with reinforced stabilizers on their front as well as rear axles. What truly helps set these work vans apart from others is their Adaptive ESP4 system. With this four-wheel drive system, mechanical 4×4 differential locks are eliminated. This is because this advanced traction system –when engaged–brakes each wheel selectively. By doing so, it provides increased traction, enhances directional stability, and enhances road adhesion in some of the most extreme road conditions Northeast Ohio has to offer. Best of all, this 4WD van is also available in a passenger van format.
As passenger safety is top priority, the Sprinter 4×4 passenger van is a great option for transportation businesses throughout the Summit County, Stark County, or Cuyahoga County area that will be providing transport for their customers during the winter months. After all, this work van has the same Adaptive ESP4 system, high/low range options, raised wading depth, and engine as its cargo van counterpart. However, this vehicle differs by replacing most of its cargo space with comfortable seating for twelve passengers.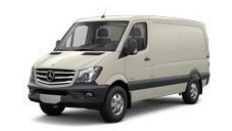 In order to provide their customers with the ideal work van for their business in the Stark County area and beyond, Mercedes-Benz of Akron offers both the Sprinter 4×4 cargo van and Sprinter 4×4 passenger vans at their location. By offering both types of Sprinter 4×4 models, Mercedes-Benz of Akron can help more business owners obtain the affordable commercial van they need to keep their business on the road all year long. For added convenience, this local auto dealership in Cuyahoga County also offers an array of financing services at their physical location to those who qualify and are looking to invest in one of these efficient 4WD vans this year.
For more information, visit Mercedes-Benz of Akron's website at www.mercedesbenzofakron.com. Otherwise, call 1.800.686.4355 or visit their physical location to speak to one of their knowledgeable staff members today.
Mercedes-Benz of Akron
1361 E Market St.
Akron, Ohio 44305
www.mercedesbenzofakron.com
1.800.686.4355