By Fiona Vernon
The time has come to enjoy the sunshine while kicking off summer celebrations dedicated to the soldiers and people who work for the freedom we enjoy in our country. Jay's Auto Sales in Wadsworth, Ohio, also loves picnics and sharing with the community, so they offer many specials commemorating the troops while they also sponsor the Blue Tip Parade and Festival in June. Not only is Jay's Auto Sales involving themselves in the community, they are also having a gas card contest, where the drawing will be held July 5th, 2017. This local used car dealer doesn't stop their generosity there, and people from Medina, Ohio, to Fairlawn, Ohio, can take advantage of their veteran and first responder discounts. Anyone from Barberton, Ohio, and beyond searching for car financing with bad credit can trust this Buy Here Pay Here dealer, who has helped thousands of people over its thirty years of business obtain affordable pre-owned cars, trucks, and SUVs. One call or visit to Jay's Auto Sales will reveal how they have gained lifetime customers with their ability to help rebuild the credit of those who never thought it was possible.
It has been a long, wet spring but the sun has finally started to consistently shine, letting those in and around Medina and Fairlawn know that summer is here to stay. With summer comes picnics and festivals with an abundance of food and games. Wadsworth-based Jay's Auto Sales is so proud of its community's five-day Blue Tip Festival that starts June 20th that they sponsor the Blue Tip Parade at six o'clock that evening. At the festival, which is located in Memorial Park just north of the Art Wright Football Stadium, this local used car dealer will also be handing out flyers offering $250 off the purchase of an already affordable pre-owned car, truck, or SUV, which will be honored until October 1st, 2017. They are always considering a variety of ways to help people afford transportation and have helped thousands of area residents over the past 31 years.
First responders are those who are trained in emergency situations and are the initial teams when there are disasters — including police officers, firefighters, and paramedics. Service members who are fighting for the freedom that Americans enjoy every day are always coming home, and one of the ways that Jay's Auto Sales helps supports the troops and those who help this country thrive is by always offering veterans and first responder discounts of $500. They are a family business and the founder and father, Joseph J. Pace, started the business with the idea that he wanted to help credit challenged individuals in a hassle-free, relaxed atmosphere regardless of past credit issues. Not only do they offer daily discounts and a special of $250 until October 1st, but they are also having a generous gas card contest in which people will win $25, $50, and $100 gift certificates! This drawing will be held on July 5th, 2017, so don't wait to gain entry! Individuals from Barberton and beyond can come take advantage of all that this Buy Here Pay Here dealer offers to those needing car financing with bad credit with reasonable down payments and affordable weekly, bi-weekly, or monthly payments. Their quality vehicles also carry a 30-day, 1,500-mile warranty and have undergone a thorough safety check by their own service garage. Jay's Auto Sales is so confident in the vehicles they carry that even after a warranty expires, they offer discounts on any services a vehicle may need.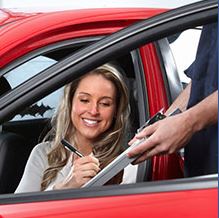 Anyone from Fairlawn, Ohio, to Barberton, Ohio, looking for affordable pre-owned cars, trucks, and SUVs can take the short drive to visit the knowledgeable and caring staff at Jay's Auto Sales — who will also be at the Blue Tip Parade handing out flyers for $250 off any vehicle purchased through October 1st, 2017. Additionally, this local used car dealer is having a fantastic gas card contest where anyone will win $25, $50, and $100 certificates! Not only does Jay's Auto Sales near Medina, Ohio, offer regular specials to help those needing reliable transportation, but they also offer a veteran and first responder discount of $500 every day. This Buy Here Pay Here dealer in Wadsworth, Ohio, was started over 30 years ago with the idea of helping those who need car financing even with bad credit in a no-hassle atmosphere. Go visit them today!
Jay's Auto Sales
1310 High Street
Wadsworth, Ohio 44281
330.334.1080
www.jaysautosalesinc.net