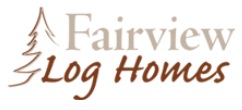 By Fiona Vernon
It is a beautiful time of year in Noble County, Ohio, and Guernsey County, Ohio, with flowers and trees blooming after being revived by the spring rain. The ground has softened with the waning cold, making it time for Fairview Log Homes in Millersburg, Ohio, to start digging foundations for the Amish-built log homes that have been in the planning stage for months. Initially, a client can consult with this log home architect to agree upon a plan for a custom wooden house. Whether an individual is looking for log homes with rustic interiors and/or exteriors or a contemporary wooden home, Fairview Log Homes is a turnkey log cabin builder, assisting from beginning to end in the custom creation and construction of a dream home in and around Holmes County, Ohio; Tuscarawas County, Ohio; and beyond.
Fairview Log Homes has built hundreds of custom wooden houses over the 28 years that they have been in business. The family-owned log cabin builders in Millersburg are a great support system for their clients, being available for assistance each step of the process. From conception to design to site prep to the smallest house detail, the log home architects at Fairview will provide everything required to complete one's ideal home. Many people dreaming of living in a log home with a rustic interior in Holmes County picture themselves walking up to their front door with a contented sigh regarding the natural beauty. They open the door to the natural lighting from the large number of windows, which illuminate their gorgeous dream log cabin with a corresponding rustic interior with magnificent hues of golden brown from the natural wood.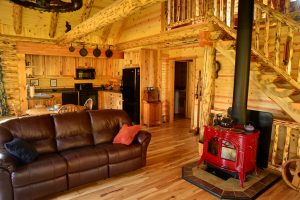 These Amish-built log homes boast many standard features that create unique and exciting log cabins with rustic interiors and/or exteriors; however, adding custom details takes one's wooden home to the next level. As a rule, the log home architects at Fairview Log Homes explain the following standards for each project:
8″ log exterior walls
Log Rafter Roof System (R-34)
Full Log Dormers & Gables
Cedar Exterior & Interior Trim
10″ Block Foundations
Custom Wood Floorings
Anderson Windows & Patio Doors
ProVia Entry Doors
6-Panel Pine Interior Doors
Delta Plumbing Fixtures
Since individuals who want to build in Noble County, Tuscarawas County, or Guernsey County can see in the initial consult what will be standard, they can take the time to contemplate and customize some of the details. The stairways can be made more like a conventional log cabin with a rustic interior in addition to character posts that may have large knots in them from the natural shape of a tree. Adding rustic wooden flooring and fireplaces with natural stone is an impressive way to add a primitive look to one's custom wooden house. The various ways the logs connect at the corners can be adjusted to look more rustic, as can the log species. Visit their website to see some customization examples.
Warm weather and sunshine bring people out of their winter doldrums and excite the mind, so as someone is driving through Guernsey County, Ohio, or Noble County, Ohio, and sees a log cabin builder digging foundations or erecting beams for a custom wooden house, the seed is planted. They begin wondering how attainable an Amish-built log home may be for them when they have been aspiring to move to Holmes County, Ohio; Tuscarawas County, Ohio; or beyond. The log home architects at Fairview Log Homes, can create the log cabin with rustic interiors and/or exteriors that families are dreaming about. The next step is simply to call or visit them!
If you'd like to receive $2,000 off the purchase of a custom log home, click HERE to take a short survey!
Fairview Log Homes
3375 County Rd 160
Millersburg, Ohio 44654
Ph: 330.359.5726
www.fairviewloghomes.net