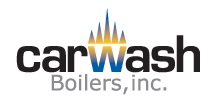 Snowfall can pile up profits for car wash operators who are properly prepared for winter—or cause costly headaches for those who are not. Keeping a car wash open throughout the cold winter months, when car owners regularly wash snow-melt salt and chemicals from their cars, requires proper car wash equipment. Otherwise, the water in your Chardon, Ohio or Solon, Ohio facility could freeze, forcing your customers to turn elsewhere. In addition, there is the liability risk associated with slip-and-falls due to icy conditions at a car wash facility. Utilizing high efficiency boilers and radiant heat products during the cold Northeast Ohio winters is a great energy and cost-saving solution. Carwash Boilers specializes in floor heat systems and hot water heaters to keep your facility running efficiently, even during the chilly winter weather.
When dirty slush and salt cover the roads in Northeast Ohio, it is the worst time for a car wash water heating system to fail, as it could cost you a significant loss of business. Understanding this, Carwash Boilers specializes in efficient car wash floor heat systems and hot water heaters. For car wash facilities requiring brand new car wash equipment, repair or updated floor heat systems or water heaters, Carwash Boilers, Inc. provides it all—energy and cost-efficient products, along with design and engineering expertise needed to run a successful car wash business.
Carwash Boilers is a premier provider of car wash equipment. Having helped thousands of car wash operations across the United States for decades, this company is familiar with a number of different product brands, and confidently chooses to offer only the best to its customers. Trusted top name brands such as Lochnivar, Knight, Armor, and Copper-Fin ensure that every Carwash Boilers, Inc. product can serve the particular needs of each facility.
Carwash Boilers, Inc. offers efficient boiler systems for every budget and need. These include efficiency boilers from Knight and Copper-Fin. The high efficiency boilers from Knight have up to 99% efficiency, advanced negative regulation technology, fail-safe direct-spark ignition, a two-in-one stainless steel heat exchanger, a fully modulating burner and easy installation. Known for its superior performance, this boiler allows operators greater control than other models.
The standard efficiency boiler from Copper-Fin includes a two-stage control system, copper finned tube heat transfer, a built-in draft hood and intermittent ignition device. These products are extremely beneficial to car wash operators and maintenance personnel as they are lightweight, easy to install, and save on costs.
Carwash Boilers also helps car wash facilities in Chardon, Solon, and all across the country profit with efficient hot water heaters. Every Armor, Shield, Squire, and Copper-Fin model offered by Carwash Boilers, Inc. offers beneficial features that operators and maintenance workers appreciate. With a variety of size and control options, Carwash Boilers, Inc.'s mostly in-stock inventory of water heaters and equipment provides the product best suited to a facility.
Whether a car wash radiant heat product, water heater or other piece of equipment is required, Carwash Boilers, Inc. helps find the customized heat system needed to operate all winter long. Well-respected for its expertise and service, Carwash Boilers, Inc. has helped car wash facilities nationwide become more profitable.
For more information on the hot water heaters or high efficiency boilers from Carwash Boilers, visit www.carwashboilers.com. You can also learn more about their floor heat systems, as well as winterizing tips for car wash profit and boosting business with smart strategies. If you have additional questions about their radiant heat products or other car wash equipment, or you would simply like to enlist their help to prepare your Chardon, Ohio or Solon, Ohio facility for the Northeast Ohio winter, contact Carwash Boilers, Inc. at 888.316.8514.